In Rescue Heat by Nina Hamilton Brigid is an emergency doctor specialized with rescuing patients via helicopter in Australia. She works with a tight-knit group and has a rule not to get romantically involved with her fellow crew members. She comes from a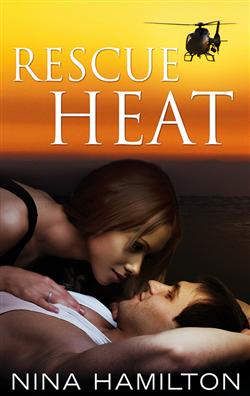 wealthy family and didn't necessarily grow up seeing her parents have a trusting relationship so she tends to keep her own romantic liaisons casual and guarded. The addition of a hunky new crewman may have her changing her mind, though.
Matt also grew up in a wealthy family and was groomed to enter into the family business from an early age. After college and grad school, he decided instead to go into the Army and become a frontline medic. He spent a decade at his job and decided it was finally time for a change. So he ended up training in Australia to go on rescue missions with Brigid's crew as a first response medic. Matt was intrigued the first time he saw Brigid on the job, but after being hurt by his previous girlfriend, he tried to keep his distance. When he realized they lived on the same block, he knew it would be more difficult then he had first imagined.
Both characters are extremely independent and very sure about themselves in their profession. Neither think they are looking for a lasting relationship until they feel a strong connection together. The author did a nice job conveying the internal struggle each character was going through without it feeling like teen angst…it is definitely an adult
situation and was presented as such. Their stolen moments together were passionate and fun, especially in a beach setting like Australia. I would definitely consider this an enjoyable read.
Rating:
Book Info: Publisher: Escape Publishing – Harlequin Enterprises, Australia Pty Ltd (January 10, 2013)
Hanging, strapped together, ten metres above a sea platform forces a quick intimacy between workmates. For Dr Brigid Adair, dangling from a helicopter wire is an everyday occurrence in her job working for the helicopter rescue crew in North Queensland, Australia.
For former US Army medic Matt Roberts, Australia means a new future; a place to escape from the war zones of his past. Despite his significant wealth, he's taken a job as an elite helicopter paramedic, wanting to make a positive contribution to his new community.
Matt Roberts knows very well the destruction that romance can reap on a unit, so when he first arrives and sees the gorgeous single doctor, Brigid, assigned to his rescue crew, he's nervous. Very nervous.
Dr Brigid Adair is going to need more than just her medical training to lead Matt back from his self-imposed isolation. High-pressure situations hovering over some of Australia's deadliest land and sea and the ignition of a passionate flame might just do the trick.