Kingdom of Exiles by Maxym M. Martineau is the start of a new fantasy romance series The Beast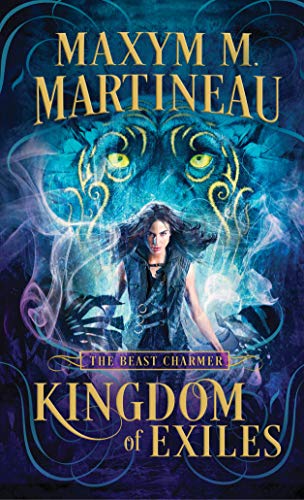 Charmer that combines elements of Fantastic Beasts with Assassin's Creed to make for a page turning read!
Leena is a beast charmer, exiled from her home for a crime she didn't commit. Forced to sell some of her beasts to survive, she discovers that there is a bounty on her head when she defeats an assassination attempt and forces the would-be killer to take her to his underworld lair, and his leader, Noc.
Noc was raised from death decades earlier and commands the assassins in Cruor. Their ability to slip into shadows makes them the perfect mercenary hire and once a deal has been struck, if the target isn't killed, it's the assassin who will die instead – and they can't beat death twice. But Noc has other problems too, including a curse that kills anyone for whom he develops any kind of affection.
Leena comes ready to bargain for her life. She hates selling her beasts so she offers to find four beasts, one for Noc and three assassins of his choosing, in exchange for dropping their bounty on her. Noc makes a contract with her but doesn't reveal the true nature of the deals they make, nor that her life may still be forfeit. The idea of a beast who can remove his curse is worth any risk. But when Noc and Leena start to develop something more than just a wary friendship, will it be to the ruin of them both?
I loved this story! I was hooked from the start, and by mid-way I was both eager to turn the next page and already regretting that the story would have to come to an end! It's a compelling tale with excellent and inventive worldbuilding. The beasts that roam this world are fascinating and dangerous magical creatures, no two alike, with unique skills that aid the person they are bonded with.
Leena and Noc have no choice but to work together in order for both to get what they want. For Noc this is particularly disastrous as he doesn't want to form any attachment to Leena, or have it returned once he starts to get to know her. But their attraction can't be stifled, leading to some sexy love scenes and some dire consequences. They have their work cut out for them to fix things. I wasn't sure if this story would end in a cliffhanger but there is a 'happy for now' ending for them, as well as several plot threads that will continue on into the next in the series.
As much fun as it was to watch Leena and Noc dance around each other, the secondary characters, members of Noc's crew, are equally enjoyable to get to know. Kost, the assassin who tried to kill Leena at the start is a trusted advisor of Noc's; Calem is the comedy relief, the playboy always looking for action from a willing female (he reminded me of Joey from Friends); and Ozias, the muscle. Equally as interesting as all the beasts of Leena's world is the politics and rules of the underworld assassins; how they become assassins and how they go about their daily lives now. Even with all the discoveries, there is still plenty of story left to be told.
Kingdom of Exiles is a richly layered and enchanting fantasy romance filled with intrigue, secrets, and flawed characters who will have you rooting for them from start to finish. I am already planning a re-read while I wait for the next in the series!

Book Info:

Publication: Jun 25, 2019 | Sourcebooks Casablanca | The Beast Charmer #1
Exiled beast charmer Leena Edenfrell is in deep trouble. Empty pockets forced her to sell her beloved magical beasts on the black market—an offense punishable by death—and now there's a price on her head. With the realm's most talented murderer-for-hire nipping at her heels, Leena makes him an offer he can't refuse: powerful mythical creatures in exchange for her life.
If only it were that simple. Unbeknownst to Leena, the undying ones are bound by magic to complete their contracts, and Noc cannot risk his brotherhood of assassins…not even to save the woman he can no longer live without.