King's Ransom by Jackie Ashenden  is the final story in the author's sexy Kings of Sydney series, with oldest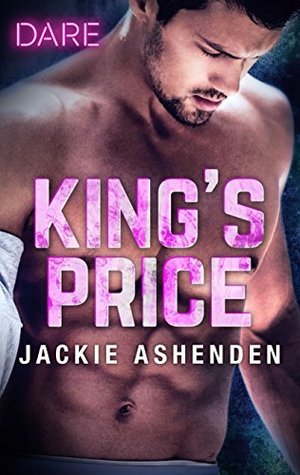 brother Ajax King solidifying his place in the business world, and the woman who is the key to his efforts.
Ajax and his brothers Leon (King's Price) and Xander (King's Rule) have been putting their criminal father's business empire back on a legitimate track one deal at a time. It's been five years since their father went to prison, and Ajax is determined to keep their fast growing property development company from being pulled under again, especially by their father's enemy William White. Ajax has come up with a way to get White out of Sydney for good – by kidnapping his virginal daughter Imogen and using her as a means to his ends. He just doesn't expect Imogen to be so ….cooperative.
Imogen is thrilled to be out from under her domineering father's thumb. Maybe she wouldn't have chosen kidnapping as the avenue of freedom but under Ajax's hands she feels safer than she's felt in ages. If he wants to 'ruin' her, she'll be a willing participant. Under house arrest at his beautiful ocean side home, she discovers a man more complicated than he appears. Can she convince him that she's better off in his arms than as a pawn in a game of revenge?
This is a fitting finale to this sexy series! Ajax has been the brooding, mysterious older brother who had to play the long game to get his father in jail, often having to go along with his father's plans in order to maintain the level of trust needed for the ultimate betrayal. His only regret is that he couldn't tell his brothers about his plans until they were in place. This book delves into the pain it caused him to act the part of his father's henchman and the reparations that are being made between him and his brothers now that his plan has succeeded. The last task is to rid Sydney of the other crime family head, Imogen's father. Knowing how closely Imogen is guarded, he plans a sneak attack but Imogen surprises him by going along willingly.
Imogen is quite happy to have Ajax as her first lover and they share several steamy scenes. Ajax discovers that his plans to release Imogen back to her father in order to get her father to move out of Sydney are not so easily followed through as he starts to care for her. There's some insta-lust here, but Ajax also makes some surprising moves that will give Imogen a real chance at freedom, including whether or not she wants to be with him in the long run. The happy ending they get is very satisfactory and believable.I really enjoyed Imogen and Ajax's banter and there were several scenes that made me laugh as Imogen didn't react the way Ajax expected her to. It's been a pleasure to see the three King brothers find worthy partners in this series. I look forward to the next sexy romance by this author!
Book Info:

Publication: Apr 01, 2019 | Harlequin Presents | Kings of Sydney #3
"I'm here to kidnap you…"
It's the sexy invite she's been looking for!
Billionaire Ajax King will do anything to destroy Sydney's criminal underworld—even kidnap his enemy's delectable and oh-so-virginal daughter. Only Imogen White isn't quite what Ajax expected. She's determined to earn a deliciously carnal education from Sydney's sexiest bad boy. And for Ajax, the ends always justify the means… Until this sweet little spitfire steals away with this brooding King's heart!