In Mrs. Everything by Jennifer Weiner, As two young girls growing up in the 1950s in Detroit, sisters Jo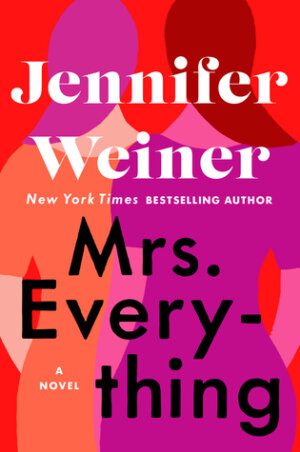 and Bethie Kaufman were intricately involved in the many changes they saw taking place around them. Growing up in a Jewish family, they knew about some of the discrimination that happened of course, but never imagined the way a person's race or their gender would become the subject of demonstrations, discussions, and even riots in the years to come.
'Jo had always been Bethie's anchor and protector, and now they were moving in different directions, away from each other.'
But as Jo and then her younger sister Bethie took their first steps into the world as young adults, they had a first hand look at what things were truly like out there. And they each decided to do what they could to make a difference in their own way. Neither Bethie nor Jo could imagine the ways their bond would be tested. Or the challenges they would face as adults and the sacrifices they would have to make. Through it all, though, the one thing that remained constant was the importance of their relationship as sisters. Something they worked determinedly their entire lives to cultivate.
"We lose ourselves," she repeated, "but we find our way back." Wasn't that the story of her life? Wasn't that the story of Bethie's? You make the wrong choices, you make mistakes… You get hurt. You lose sight of who you are, or of who you want to be, and then you remember.
A novel that explores subjects ranging from feminism to interracial relationships to dark family secrets, Mrs. Everything was a powerhouse work of fiction that left me an emotional wreck. And I wouldn't have wanted it any other way.
'She had found her way to happiness, a life that left her fulfilled and connected–to the earth, to other women, to her country, to justice, to the world around her.'
Jennifer Weiner didn't pull any punches with Mrs. Everything. It will be a tough book for some sensitive readers to get through due to the controversial subjects Weiner included in Jo and Bethie's rocky journey. I won't give spoilers, but if you look at the years this story covers, from 1951 up through the present day, you can only imagine what two young Jewish girls from Detroit went through over those decades while the world constantly changed around them.
It's difficult to describe Bethie and Jo's relationship and their struggles in this book without giving too much away. I can say that we got to see how every decision they made and their reactions to their ever-evolving world drastically changed their individual paths. It also altered Jo and Bethie's bond in ways they could never foretell. Their emotions and personal issues were written realistically and with such rawness to them by Weiner that I felt like I experienced those emotions right along with our main characters. Something that made me smile as many times as it drove me to tears of sorrow, joy, or frustration.
At the beginning of their story, when Bethie and Jo were children, there were a lot of details, some passages that felt almost too much about the minutiae of their daily lives. Then as they grew older, it seemed just the more pivotal moments were addressed–in a more concise way–almost mimicking the sisters' thought processes as they became adults. I could be wrong, but it felt like Weiner did this intentionally. It seemed like the narrative voices of Jo and Bethie changed as *they* changed, with things speeding up and more years being skipped over as their lives sped along. And, truthfully, it was what helped hold my attention after a slower beginning that eventually turned into a heartbreaking but poignant ending.
Mrs. Everything is a vivid, emotionally-present fictional story that is bound for the big screen, in my humble opinion. With complex characters and a multi-layered plot based around fascinating moments in history, Jennifer Weiner has crafted a touching novel that will remain with her readers long after they've read the last heartfelt page.
Book Info:

Publication: June 11th 2019 | Atria Books |
From Jennifer Weiner, the #1 New York Times bestselling author of Who Do You Love and In Her Shoes, comes a smart, thoughtful, and timely exploration of two sisters' lives from the 1950s to the present as they struggle to find their places—and be true to themselves—in a rapidly evolving world. Mrs. Everything is an ambitious, richly textured journey through history—and herstory—as these two sisters navigate a changing America over the course of their lives.