Kiss and Makeup by Taryn Leigh Taylor: Ever had one of those days when nothing went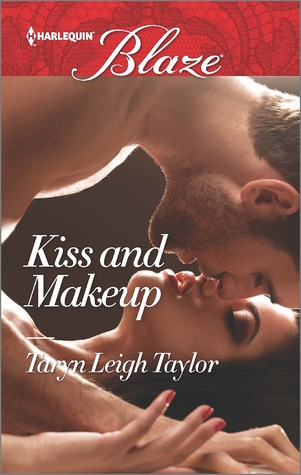 right? How about one (or several) of those years? Then there always seems to be that one person who is just too zen to be real. Yep that was him. That was Ben Masterson the very sleek and handsome man in the seat next to Chloe Masterson, no relation, when she got stuck for hours on a plane. A little ironic that they ended up sitting next to one another since they had the same last name and had no idea who the other was. In fact it was almost like they were polar opposites.
Yet one mistaken identity leads to one mistaken room, mistaken relationship, mistaken this and mistaken that, until maybe just maybe it's no longer a mistake?
Ms. Taylor has written an interesting farce with this one. It seems nothing in the Masterson's life is easy and she has this way of just making it all so real and so funny you can almost see it happening right in front of you. Her characters are real, from their flaws to their looks to their quirks. Her plot flows with real time, never having the slow dull oh no moments. This is definitely a novel with some heat thrown in but nothing overwhelming. Indulge in some fast paced romance with this one that might just make you believe in fate.

Book Info:

Publication: Published September 15th 2015 | Harlequin Blaze |
A hot shade of lipstick calls for a hot, sexy guy…
Makeup artist Chloe Masterson has a look for every occasion. Flying home for your sister's wedding and family torture? Easy. Bring out the sarcastic wit and black eyeliner. Bonus—the look catches the eye of the corporate hottie sitting beside her on the plane. Turns out Ben has the exact same last name, and everyone assumes they're married.
When they get stuck in a hotel room together, Chloe decides to accept the gift the Fates have bestowed upon her. (Tip: a bold lip color does wonders for seduction.) But as their lies begin to snowball, Chloe and Ben find it harder and harder to distinguish between what's real and what's all just smoky eyes and mirrors.