In Undead and Unforgive (Undead #14) by MaryJanice Davidson, Vampire Queen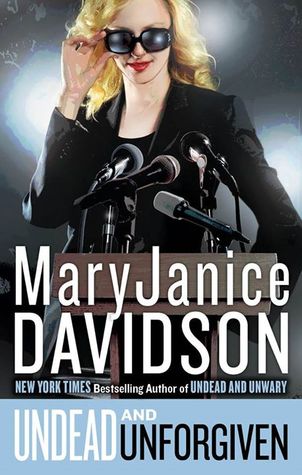 and the head woman in charge of Hell, Betsy Taylor is never lacking for chaos in her life. But even in her crazy world, she never thought her half-sister Laura–the Antichrist–would go onto social media and announce that vampires are real. Betsy knows there's some underlying reason that beautifully perfect Laura is stirring things up. And she intends to find out what it is.
'Suddenly this was making a lot more awful, awful sense. The Antichrist, in her continuing efforts to find the adult equivalent of a Daddy and Me class, had teamed up with my dad to expose me and mine to the world. And for what?'
Also on Betsy's list of things to do is to give Hell a makeover. No, seriously. With things still being done the same way they have for millions of years, there are a lot of archaic rules that just don't work in today's world. So with her committee of supernatural friends, plus her antagonistic stepmom, Betsy is all set to make her new role as Hell's ruler be a positive one. If she can keep her gorgeous husband Sinclair from sneaking in and taking over the reins in Hell, that is.
Marc shook his head over Tina's laughter. "I swear, your ego is made of Silly Putty. You have setbacks, but you always bounce back."
As a philosophy, it left a bit to be desired. But as a go-to attitude, it suited me pretty well. Betsy the Vampire Queen, Ruler of Hell and the Undead, with the footgear of a fashion goddess and an ego of Silly Putty.
Nah. Needed work.
Undead and Unforgiven was a unique paranormal romance that had me in utter stitches with the hilarious cast, the creative storyline, and the sarcasm that was Betsy Taylor, Vampire Queen aka: Satan 2.0.
After reading book fourteen in the Undead series, I SO need to go back and read the previous installments. I'll confess that it was a bit tough to hop in here, so far into the story arc and understand it all right away. It took some perseverance but it was well worth it. And author MaryJanice Davidson did include a bunch of the backstory to help out. I loved that she relayed the background info via footnotes, which, even they managed to be snarky!
Betsy and Co. were the quirkiest, most fun bunch of supernatural characters I've 'met' since Molly Harper's Half-Moon Hollow characters. There were the vampires, of course, along with a zombie, werewolves, mermaids and even a human who could see ghosts. Now I am a huge fan of paranormals that bring a lot (I'm talking A LOT) of sarcasm and offbeat people/beings to the party, but I know not everyone shares my taste in books. So I think readers looking for something totally different will enjoy this story, although traditionalists might not be able to get into the plot.
I think what I liked most was Betsy herself. Okay, so she was a bit ditzy at times and was obsessed with shoes. We all have our moments. But, Betsy was always thinking, always looking for a way to help her friends and family, and she was strong. She was the one who ultimately had to preside over all the vamps, with her sexy husband Sinclair by her side, and she was the new ruler of Hell. Betsy proved that not only was she the head problem solver of two realms, but she could have fun and look very fashionable while doing so. Not too shabby for a former beauty pageant runner up from Minnesota.
Betsy, Sinclair, Tina, Marc and the rest of the crew had me literally laughing-out-loud through the entirety of Undead and Unforgiven. If you love adult-themed paranormals, you might just become a fan of this series.
Book Info:

Publication: Published October 6th 2015 | by Berkley | Undead #14
"MaryJanice Davidson's Undead series is laugh-out-loud funny."—Heroes and Heartbreakers
New York Times bestselling author MaryJanice Davidson is back. So is Betsy Taylor, "everyone's favorite vampire queen" (Bitten by Books) and this time Betsy's going viral…
If Betsy Taylor has learned anything about ruling Hell it's: 1) she can't do it alone, and 2) she doesn't have to. She's got the help of a devoted vampire king, a dateless zombie, an exhausted new mom, an unshowered cop, a bitchy ghost, a kindly dead priest, and her late stepmother ("Go Team Satan!"). But the latest major hurdle in her post-dead life is so big she can't even see it until it's on CNN.
Betsy's father and half-sister Laura (a former Anti-Christ with a grudge) have outed Betsy to the world. It doesn't take long for the story to become 24-7 headline news. What's more, people are not only prepared to believe in vampires, they want to kill them. For Betsy, social media has never felt so…unsocial.
Before long the mansion on Summit Avenue is swarming with reporters, would-be vampire/zombie killers, and desperate emos begging to be turned. Betsy has been forced into the unenviable role as the reluctant face of the vampire nation. All she knows is, she has to look good—this is hi-def!—and stay true to who she is. H8ers be damned.