Kiss Me Back by Sidney Halston: Lola has big dreams that she's determined to pursue and those dreams do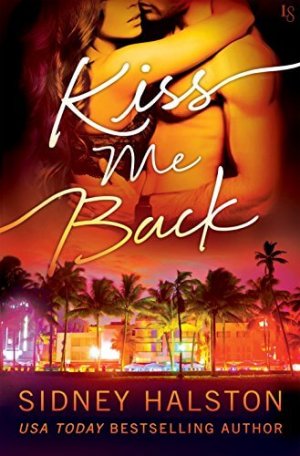 not include the sexy as sin William Fox. She has fought to support herself and get the advanced education she needs to pursue her goals of working with the deaf and hard of hearing. She wants to give back and contribute. Lola is feisty, independent, and doesn't trust men.
Fox is content with his life. He's made something of himself and is now one of the most dedicated employees at Panic. He's worked his way up and dresses to impress with his Armani suits, carefully styled hair, and requisite sports car. Being a key member of security at the popular nightclub means that he is as much sought after for access as for his looks and charm.
Fox is definitely intrigued by Lola. Ever since she started working at Panic, he has tried to score a date, but she is the one woman seemingly immune to his looks, body, money, and charm. Lola isn't playing hard to get, but she does appreciate his persistent efforts.
"I'm nothing but patient," I say. "Just…let me in. Don't keep fighting me at every turn."
"You're in, see?" she says, and points to her apartment and I roll my eyes.
"Not what I meant and you know it."
Fox makes the best of an opening that Lola finally gives him, only to be surprised by her offer. They certainly have chemistry, but he wants more than the limited offer of what Lola is able and willing to give him. Fox is respectful and supportive of her dreams while pushing her to open up her world. They also butt heads between her stubbornness and his need to fix things.
She laughs. "I brought a bag with me for tonight."
"So you're coming with me after work?"
"There was the cutest little notes in the bag practically begging me to come home with you." She shrugs. "So, I packed a bag."
Kiss Me Back is an entertaining push-and-pull romance. Sidney Halston created interesting histories for Fox and Lola. Ms. Halston provided entertaining secondary characters in the employees and owners of Panic. Fans of Terri Osburn and Marie Meyer will enjoy Kiss Me Back.

Book Info:

Publication: March 27th 2018 | Loveswept | Panic #3
The only thing hotter than the Miami sun is the sexual tension at Panic, the South Beach nightclub where love knows no boundaries.
Lola: I've seen the way women in line behind the velvet rope look at William Fox, like he's an Armani-clad St. Peter at the pearly gates. Except Panic isn't heaven, and this bouncer is no saint. He's been tempting me to sin ever since I started working here, but Fox's slick smile and bad-boy swagger tell me everything I need to know about him. Still, a girl has needs. And Fox looks ready to fulfill every last one—at least for a night. . . .
Fox: I'm not used to being ignored—especially by women—but Lola Daye is different. The pretty bartender with the red lips and icy blue eyes seems perfectly happy pretending I don't exist. Too bad, because the more she ignores me, the harder I fall. So I'm floored when she answers my drunken, flirty text with a yes. Lola claims she only wants a fling, but after one kiss, our bodies are speaking the same language. And I'm ready to prove that what we have could be forever.
No cheating. No cliffhangers. And no dress code.