Hired for Romano's Pleasure by Chantelle Shaw is a sexy second chance romance for a couple who had a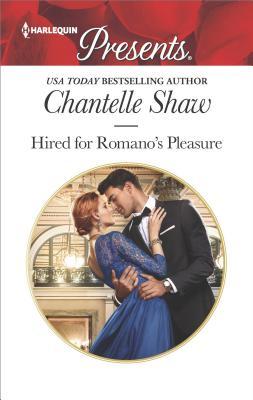 one night stand that ended poorly, but never forgot about each other.
When Orla was eighteen she was seduced by sexy, handsome Torre in a one night stand that rocked them both. But when Torre discovered in the morning that Orla was the daughter of the gold digger about to become his new step-mother, he pushed her away, believing she'd orchestrated their night to make a fool of him.
Years later, Orla is invited to celebrate her ex-step father's birthday, arriving with another of her step siblings for the party. Torre is there too of course, and while it's been years since he's seen Orla, particularly since her mother has long since moved onto fresher pastures, he's never been able to put their night together out of his mind. And neither has Orla. Desperate for money, Orla agrees to take a temporary position as a personal assistant to Torre. The attraction between them is as strong as ever. Will they be able to put the past behind them and this time, get a happier ending?
Torre's attitude towards Orla at the start of the story is not pretty. He refers to her as a 'witch', a 'sorceress' and at one point accuses her of dressing provocatively with the goal of attracting men and making him jealous. In the era of 'Me Too', this kind of misogynism is no longer acceptable. It made him hard to like as a hero. To his credit he does improve over the course of the story, and offers decent apologies, especially when he realizes that he'd misjudged Orla from their first encounter.
Orla has had a difficult few years. Not only has she had to deal with a mother who has married several times strictly for money, she also was in an abusive marriage. Married to a popular sports star, she eventually divorced after a physical encounter left her with stitches, after already suffering months of emotional abuse. She'd been isolated and alone and refused to take any money from her ex in the divorce. In this aspect, the story takes on a more current storyline and here Torre is able to redeem his earlier behaviour by showing her support when he finds out the truth, and becoming her protector. The two of them share some sexy scenes together as the story progresses, and they learn to trust each other. They get a well deserved happy ending. After a rocky start, I'm happy to say that the story turned out to be an entertaining and enjoyable read.

Book Info:
Maria Rose| 3.5 Stars | Nope! | No |
Publication: Feb 20, 2018 | Harlequin |
Orla's to-do list: #1 Resist my arrogant new boss!
Working for cutthroat billionaire Torre Romano is shy Orla's worst nightmare–she's never forgotten the crushing blow of his cruel rejection. Unfortunately, her traitorous body can't forget the white-hot pleasure they found together! Traveling abroad with him, and working late nights, is pure sensual torture–especially as Torre seems determined to tempt Orla to play with fire once again…