Knight of Love by Catherine LaRoche is set during a unique time for romance books, during the March Revolution of 1848. According to Wikipedia, this was "a series of loosely coordinated protests and rebellions in the states of the German Confederation." It starts out with a literal *snap*, as the heroine of the book is being publicly flogged by her fiancé. Lady Lenora Trevelyan, oldest daughter to the Duke of Sherbrooke, and related to Prince Albert, is betrothed to the sadistic Prince Kurt von Rotenburg-Gruselstadt. As she is being whipped, Lenora withstands the pain by planning her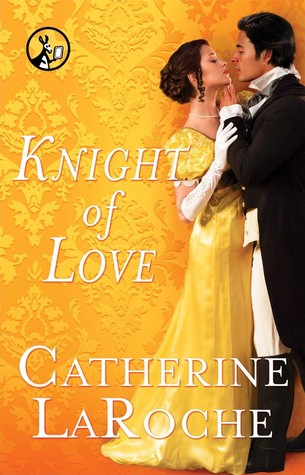 escape from the detestable Kurt. She is assisted to her room after the beating by a blacksmith, who is a huge bearded man with piercing blue eyes. Lenora is a smart, strong woman, with expert knife-throwing skills, and does manage to escape after she heals from her flogging. However, she escapes into the chaotic and dangerous world of the March Revolution.
Eventually, half starved, she runs into a band of revolutionaries, who quickly see through her male disguise. They bring her to their leader, who turns out to be an English nobleman who also has an ancient, hereditary Germanic title. Wolfram, Earl of Ravensworth and Freiherr von Wolfsbach, is both a British Earl and a German Imperial Knight, and is not only big, strong and idealistic but also a natural leader. He was the 'blacksmith' who carried to her room, and, being a romantic, fell utterly and completely in love with her. Lenora is grateful for his protection, and wants to go home to England. After Kurt, the last thing she wants is to be tied to another man, but Wolfram insists that her only protection is to be married to him. Lenora is attracted to Wolfram, but not enough to be married to him.
And yet, if she were to be fully truthful, she would have to acknowledge there was something different about this man. Not only his immense size, two of any normal men, packed into that massive breadth of hard-muscled shoulders and torso. But also his demeanor. Certainly not mild-mannered—not with that blood streaming down his face on his ride in, nor with his ongoing insistence on this notion of their marriage. But somehow not threatening in the same way Kurt was. And somehow intriguing.
Wolfram is a crazy idealist, but his crazy idealism also makes him brave. He sees the world through rose-colored glasses, and sees Lenora as a delicate princess. Much of Wolfram's emotional growth though this book has to do with him learning how to see things, like the revolution and Lenora, as they really are. Lenora is such a strong character that most of the time it seems Lenora could just rescue herself, and often does, but the reality of the situation is that she doesn't always have the physical means to do so. Wolfram, her 'knight,' is required, and his brawn and steadfastness provides an excellent counterpoint to her intelligence and quick wit.
I found "Knight of Love" to be a troublesome book. It started with much promise, and I was quite excited by it, but then it delved into a deep bog, but managed to somewhat redeem itself by the end. For me, the "deep bog" included two sexual encounters that could be considered assault, and I think that perhaps some readers will find this difficult to get past. I was able to read it through to the end, and although the continuing storyline was interesting and adventurous, I was never able to have the same feelings for the main characters again. However, I found the time period and political setting very intriguing and enjoyed learning about a moment of history I knew nothing about. The setting was a refreshing change from the usual, as was the focus on Germanic royalty rather than British. I think that if you are a reader looking for something different and outside of the ordinary you may just find that this is the book for you!
Book Info:

Published June 9th 2014 by Pocket Star
Lady Lenora Trevelyan, a naïve yet stubborn young lady born to the highest noble houses of England and Germany, finds herself betrothed to the brutal Prince Kurt von Rotenburg-Gruselstadt. But after she is cruelly bruised and flogged by her fiancé, she decides to take the reins of her fate. In the midst of a German revolution, Lenora escapes Kurt's iron fist and embarks home to England. She quickly finds herself in the hands of a rebel group and their robust, gentle, and handsome leader, Wolfram von Wolfsbach und Ravensworth, the English Earl of Ravensworth.
Lenora struggles to deny the passion she feels towards the frustratingly chivalrous Earl, but her desire for him continues to bloom. Wolfram hungers for nothing other than to fight for democracy and civil rights in uniting Germany and to protect what he assumes is his damsel in distress. Through nights of immeasurable pleasure, Lenora and Wolfram learn that their passion is no match for the revolutionary chaos that ensues. And when Lenora discovers that her protector's life is threatened, she must risk everything to save her Knight of Love.