In The Beekeeper's Ball (Bella Vista Chronicles #2) by Susan Wiggs, Isabel Johansen's family home, Bella Vista, is her sanctuary. One that's been kept mostly to herself and her grandparents over the years. But now, there will be a big family wedding taking place on the grounds, which she's happily coordinating. Plus Isabel will be opening her own cooking school there, sharing her love of all things culinary. What she doesn't need is a distraction, which is exactly what journalist Mac O'Neill becomes when he shows up on her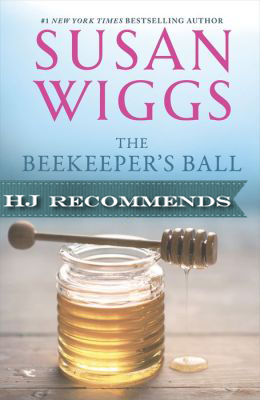 doorstep to chronicle her grandfather Magnus's harrowing childhood during World War II. After a disastrous attempt at romance in the past, Isabel ignores her attraction to Mac, but before long, it consumes her to a degree that she has to acknowledge what is happening between them.
'She'd had no idea falling in love could be this much fun. Before Mac, she'd regarded it as an angst-filled process fraught with uncertainty, and stress. He'd shown her a different way. He'd shown her the joy.'
Mac O'Neill has spent his life traveling the world, both while growing up and now with his career in journalism. He can't imagine settling in one place for the rest of his life. Until he meets Isabel Johansen. What starts off as an assignment quickly turns into a life-changing experience. Between the jaw-dropping tale Magnus tells him and the chemistry he has with Isabel, Mac knows he will never be the same after his stay at Bella Vista. Especially if he can get a certain lovely lady to give their romance a chance.
"Listen, Isabel. I like you. We can be good together. Can we be good forever? Who knows? Just because we don't know shouldn't hold us back."
The Beekeeper's Ball is about learning to love and trust someone….to take that leap of faith, even if it seems frightening. It's also the breathtaking story of how a loving family was formed out of one of the most devastating events in history: WWII.
I've been looking forward to reading this ever since I flew through The Apple Orchard, which is book one in the Bella Vista Chronicles. Susan Wiggs has yet again combined the current happenings at Bella Vista with flashbacks to Isabel and Tess's grandfather, Magnus in the 1940s during the Nazi occupation in Denmark. What a detailed, heartbreaking story we get about his family and friends. But it showed a sense of courage and selflessness as well that was incredible. How Magnus, Eva, Ramon, and Annelise found a way to carry on, day after day, never knowing if their efforts were helping was simply inspiring to me.
I really liked Isabel and Mac together, even though they couldn't have been more different. She was a homebody who had been sheltered most of her life and was very, very much set against falling in love with him. And Mac was bold and blunt, but somehow sweet and thoughtful at the same time. And sexy. Whew. I loved the description Ms. Wiggs gives of him as "picture Thor's brother." Yes. Please. But seriously, this was a slow burn romance thanks to Isabel's reluctance, although it was definitely worth the wait. This turned out to be more of a Happy-For-Now rather than a Happily-Ever-After with the way it ended. It wasn't necessarily a cliffhanger. It was just obvious there will be more to follow in Bella Vista.
If you enjoy deeply emotional stories full of romance, family history and traditions, definitely check out The Beekeeper's Ball. I hope you will be as pleased with it as I was.
Book Info:

Published June 24th 2014 by Harlequin MIRA
#1 New York Times bestselling author Susan Wiggs returns to sun-drenched Bella Vista, where the land's bounty yields a rich harvest…and family secrets that have long been buried.
Isabel Johansen, a celebrated chef who grew up in the sleepy Sonoma town of Archangel, is transforming her childhood home into a destination cooking school—a unique place for other dreamers to come and learn the culinary arts. Bella Vista's rambling mission-style hacienda, with its working apple orchards, bountiful gardens and beehives, is the idyllic venue for Isabel's project…and the perfect place for her to forget the past.
But Isabel's carefully ordered plans begin to go awry when swaggering, war-torn journalist Cormac O'Neill arrives to dig up old history. He's always been better at exposing the lives of others than showing his own closely-guarded heart, but the pleasures of small-town life and the searing sensuality of Isabel's kitchen coax him into revealing a few truths of his own.
The dreamy sweetness of summer is the perfect time of year for a grand family wedding and the enchanting Beekeeper's Ball, bringing emotions to a head in a story where the past and present collide to create an unexpected new future.
From "one of the best observers of stories of the heart" (Salem Statesman-Journal), The Beekeeper's Ball is an exquisite and richly imagined novel of the secrets that keep us from finding our way, the ties binding us to family and home, and the indelible imprint love can make on the human heart.