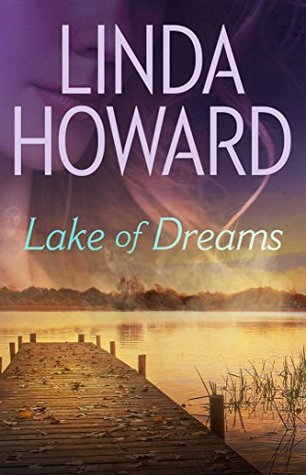 In Lake of Dreams by Linda Howard, Thea Marlow's dreams have started feeling all too realistic as well as taking a disturbing turn lately. For weeks she's been dreaming of a man with gorgeous eyes who she never sees clearly, but who she finds intense passion with. The disturbing part? Instead of the dream ending in lovemaking, some of the time it ends with the mysterious man killing her.
'Was this how insanity began, this gradual erosion of reality until one was unable to tell what was real and what wasn't? Because the here and now was what didn't feel real to her anymore, not as real as the dreams that ushered in the dawn.'
Thea's dreams center around the water surrounding her family's summer camp, a place that gave her comfort as a child. Trying to get past her nightmares she travels there to confront her fears. But finding out that the man from her dreams is renting the cabin next door only increases her anxiety. Thea somehow feels alternately safe and fearful of the enigmatic stranger. And only time will tell if she can truly trust him or if he means her harm.
'It didn't make sense that she should feel so safe and protected in the embrace of a man who was so much of a danger to her, but the contact with his body was infinitely comforting.'
Lake of Dreams packs a ton of emotion and mystery into a such a short story. This one kept me on the edge of my toes wondering what was behind Thea's dreams and how her new neighbor fit into the puzzle.
There is so much I want to discuss! But sadly I can't, because it will give away the entire plot. I will say that Linda Howard did a nice job stringing readers along until the end to see how things finally played out for Thea and her mystery man. There were so many bits and pieces that had to fit together in their story and it seemed like the more that was revealed, the more interested I became in the outcome.
The characters were very well-developed for a novella length story. At around seventy-five pages long, I felt like I had a good grasp on who Thea and her neighbor were by the end. She was a dependable, smart woman in her late twenties who had always felt a bit incomplete. The dreams understandably rattled her to her core so I could empathize with her search for the truth. Facing them head on by going to where her dreams took place was pretty gutsy. I had to give Thea credit for that. And her instant attraction to her mystery man adding to the problems seemed realistic.
Originally released in a 1995 anthology (Everlasting Love), Lake of Dreams blurs the lines between reality and fantasy. I think the solid writing and intriguing storyline still stands strong, even twenty-one years later.
Book Info:

Published May 2nd 2016 (first published May 1st 1995) | by Pocket Star |
Dreams and reality collide—with potentially deadly consequences—in this stunning novella from New York Times bestselling author Linda Howard, available for the first time as a standalone ebook at an unbeatable price!
House painter Thea Marlow hasn't been sleeping very well. Her nights are plagued by dreams, the setting by the water and the mysterious man who appears in them always the same. But the outcome of the dream changes nightly: sometimes the man loves her…and sometimes he kills her. Desperate for some much needed relaxation, Thea travels to her family's remote country lake house. Imagine her surprise when a knock at the door reveals the man from her dreams…who happens to have just rented the house next door.
So will he love her—or will he kill her?
Originally published in the anthology Everlasting Love by Linda Howard, Jayne Ann Krentz, Linda Lael Miller, Kasey Michaels and Carla Neggers.