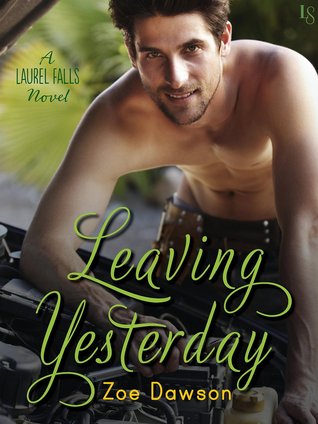 In Leaving Yesterday (Laurel Falls #1) by Zoe Dawson, Trace Black is the rock of his family whose siblings would be lost without him. Working as a mechanic, and taking care of them all — including a brother with a serious case of PTSD — seems exhausting, and yet, Trace handles the pressure just fine. At least he does, until he helps Rafferty Hamilton when her car breaks down. Soon, she's providing a distraction he can't afford. Not when she's likely to leave town the moment her car is fixed. But the more time they spend together, the more he hopes she'll stay. Not only because she's a godsend when it comes to his family, but she's the first woman that he's wanted more than a temporary fix.
"What is it, Cadie?" Trace cocked his hip at his sister's my-teenaged-problem-is-now-your-problem look.
"Have you seen my mango bra and panty set?"
From the very beginning, I was swept into this delightful, fast-paced, small-town romance by Trace needing to deal with his sister and her dilemma. As it's not a situation – I'm certain – any brother wishes to be in, and his older brother is too much of a chicken to help. Using every excuse he can think of, for what he's capable of doing, and telling Trace why he's the right man for the task. Honestly, the dialogue between the siblings had me laughing, and completely charmed by their closeness, as it seems Trace can never have a moment for himself.
As for the rest of the dialogue, it was intense due to the secret that Rafferty is hiding about the reason why she's in town, the situation with Harley – Trace's brother that's suffering PTSD, and the dilemma Trace's sister faces with the boy she likes. While the teasing banter between Trace and Rafferty was compelling, and the nickname Trace has for the heroine could be seen as a compliment, or an insult, depending on which way one looks at it. Still, I thought it suited her.
As they waited, she said, "I didn't mean to step all over your toes, Trace."
"I've got things covered, Commander Princess."
Her brows rose. "Commander Princess?"
"Yeah, some Patton and a whole lot of royalty. I took orders in the marines, but I'm not in the marines anymore."
I really enjoyed both Rafferty and Trace. The heroine's not sure she'll ever be able to trust a man again after her ex-husband, but there's something about Trace that makes her want to. Because being in the small town surrounded by such kind people, and keeping her secret makes her realize that she's exactly like her ex-husband described. That she's a puppet where the strings are in the hands of her father. She's also benevolent, and the way she helps both Trace's sister and his brother that suffers PTSD just made me like her even more. While Trace, he's kind and caring, which is proven by everything he does for his family. He also does his best to resist Rafferty, because he believes she wouldn't be happy in a small town like Laurel Falls for long. Yet, their intense chemistry can only be denied so many times, and eventually some hot sex scenes heat up the pages.
Overall, the way Ms. Dawson described the small town and the kindness of its people made me fall in love with Laurel Falls, and has me looking forward to more of this series. The epilogue wrapped the story up nicely, and I was pleased to see that Rafferty found a project that she loved. And of course, I can't forget the bond she shares with a mountain goat that is feisty towards Trace at the end.
If you love Susan Mallery, Kristan Higgins, or Rachel Gibson, I would recommend Leaving Yesterday by Zoe Dawson.
Book Info:

 February 9th, 2016 | Loveswept |
If you love Susan Mallery, Kristan Higgins, or Rachel Gibson, don't miss the start of this captivating small-town romance series! Laurel Falls, Montana, features spectacular mountain scenery—but it takes a rugged cowboy to convince one woman to slow down and enjoy the view.
Rafferty Hamilton doesn't plan on putting down roots anytime soon. With her divorce final, the hotel heiress has left Manhattan behind to scout new locations for her family's chain of resorts. Which is why it's so frustrating to be stranded in Laurel Falls while a good-looking, slow-talking, Stetson-wearing mechanic takes his sweet time with her overheated coupe.
A decorated vet who paid his dues in Afghanistan, Trace Black can fix anything with an engine and get it revving—even Rafferty's ridiculous sports car. He couldn't say the same for the knockout driver, who looks like she's never gripped a gear shaft in her life. Women like Rafferty don't usually stick around in Laurel Falls, but Trace finds himself showing her everything his hometown has to offer before she cruises on down the road.
As the days pass, Rafferty finds herself charmed by the pace of life and the openhearted warmth of the residents. She's even tempted to trust again—and it's all thanks to Trace. He's not the kind of guy she's used to falling for, but he just might be the man she needs.