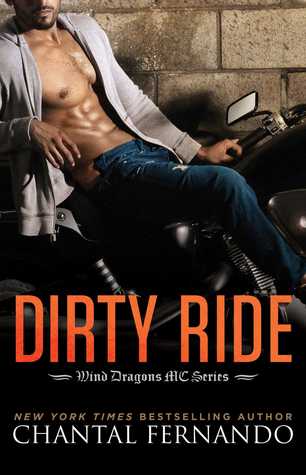 Dirty Ride (Wind Dragons MC #3.5) by Chantal Fernando is the first MC book that I have read in this series. It is a very quick, sit down in an afternoon and read it novella, but it packs a punch and can be read as a stand alone to the series. I did not feel lost, but I will say that I am going to run and grab the first 3 books because this series leaves an impression.
Valentina is running away from an abusive relationship. It didn't start out that way, but the man that she thought she knew turned into a monster that she no longer recognized. Thinking that if she runs as far and as fast as she can, she will be able to hide away from the monster in her past. What she did not count on was running straight into the arms of Irish and the Wind Dragons MC, and she did not count on how safe she will feel only when she is in his arms.
Irish has lead a tough life, and is use to being alone. He lives for the club and will do anything that is asked of him. But when is meet a red head in a bar, he knows the moment that he sees her that she is meant to be his and his alone. Irish will do anything in his power to get Valentina in his life and in his bed.
But when the monster from her past reappears, will Wind Dragons and Irish be strong enough and fast enough to save Valentina in time?
I loved the interaction between Valentina and Irish. I love how protective he was of her. Valentina is such a strong character to withstand all that she has been through. Her confidence has taken a hit, but with Irish she feels desired, wanted. She feels loved. In Valentina, Irish has found some to love, protect and if it came to it, die for. Their chemistry is off the charts.
I look forward to reading more in this amazing series.
Book Info:

 Published February 8th 2016 | Pocket Star | Wind Dragons MC #3.5
Even by Wind Dragon Motorcycle Club standards, Irish was always a bit of a dark horse. Not one to confide his secrets, such as where he got that mysterious scar across his neck, he's quick with his fists and even quicker to jump to the defense of his MC. But is he nimble enough to handle the woman he never saw coming? Or will she leave him with a matching scar across his heart?