In Leopard's Wrath (Leopard People #11) by Christine Feehan, Mitya Amurov has seen the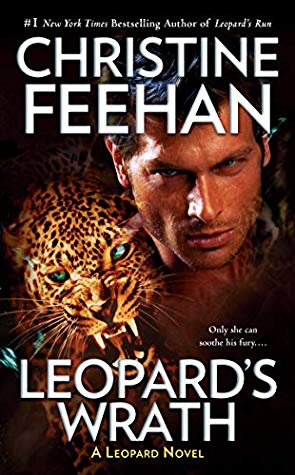 darkest of what the world has to offer. And he's been forced to do things no man should ever have to do. Breaking free of the Russian crime family he was born into has been an ongoing process. Now in the States working with other leopard shifters to keep their kind safe, Mitya still must remain vigilant to keep his ferocious leopard contained. The only time he has ever felt any peace of mind is when he helps a beautiful motorist with a flat tire. Mitya soon realizes Ania Dover is truly the woman of his dreams. But his life is one dangerous moment after another, so how can he bring the woman he wants to cherish for the rest of his life into all that darkness? Although it turns out that Mitya's mate is much tougher than she appears.
'He needed her. He was already addicted to her smile. To her brightness. But it was the way she brought peace to him that he needed. Once he felt that, he couldn't live without it.'
Ania feels like she is barely holding her life together at the moment. Tragedy seems to keep happening to her loving, happy family so she now spends her time split between the family business and taking care of her ailing father. That's why when Ania unexpectedly meets Mitya, feeling an intense connection with him, she's not sure it's the right time to enter into a relationship. But the bossy, devastatingly handsome man won't leave her mind. Or her side, for that matter. Ania and her father are quickly under Mitya's protective care. But it turns out the new couple will need to watch each other's backs as danger threatens them from every side. With nowhere else to turn, Ania will stand and fight with Mitya and hopefully live to see what becomes of their growing bond in the future.
"Without your exceedingly and annoying bossy ways, you're really quite wonderful."
He leaned in to her and kissed her nose. "You like my exceedingly bossy ways."
She made a show of rolling her eyes. "I like you, that's for sure."
Dark and dangerous romance. An intricately woven plot. Riveting action and intrigue. Leopard's Wrath was another exciting–and of course passionate–novel by the indomitable Christine Feehan.
"I'm not a poet, baby, and I'm never going to be. I don't have pretty words. But when I touch you, even when I'm rough…That's me feeling so intense I'm barely in control. For a man like me to lose control, Ania, it has to be love."
Wow can Christine Feehan weave a magical, completely engaging tale. There were so many unexpected twists and turns to this book that I simply hated to put my kindle down for even a moment. I really enjoy the world Feehan has created for her Leopard People series. It fits the shifters well and it's pretty incredible how she can distinguish the human side of the characters from their feline counterparts so perfectly. It was quite evident in the fight scenes as Mitya and Ania were defending their lives, as well as the tenuous relationship between them on a personal level.
Even though there were moments that could be a tad frustrating, Ania and Mitya both being so strong-willed (that's putting it mildly!!) made for an exciting time, and was also funny and charming in other moments. Some readers might have a tough time warming up to Mitya because he truly was an alpha male. Given his horrific upbringing, I understood why he had trouble with emotions and showing Ania how he felt. He was overbearing several times. There was always a reason, though it was difficult for others to see as Mitya had a mind well-tuned to seeing several steps ahead of the bad guys.
Ania had been brought up as being equal to the men in her family which isn't always the case for leopard shifters. So we got some amazing fireworks between our hero and heroine. And not just in the steamy love scenes. (lol) Ania was very modern in her thinking, her actions, and didn't put up with Mitya bossing her around. I did think she was selfish a couple of times, but she definitely realized how her temper put others at danger and settled down. I loved watching Ania's leopard emerge, seeing how they protected each other and how they interacted with Mitya and his leopard. It was sigh-worthy, that's for sure…
Leopard's Wrath included an incredibly well done battle of wills and a seductive, oh so sexy love story that will captivate readers. The explosive, unexpected ending will be guaranteed to keep fans counting down the months until the next installment.
Book Info:

Publication: Published November 5th 2019 | Berkley | Leopard People #11
He's a man used to getting what he wants, but she's not the type of woman to take things lying down….
Born into a life of crime, Mitya Amurov has had a hard life, and his leopard has developed into a feral beast to protect him. It's constantly trying to claw its way to the surface—until a chance encounter with a stranger instantly calms the predator inside him. While Mitya wants Ania desperately, it's only a matter of time before his past catches up with him, and he'd rather die than put her in danger. But Ania is dealing with dangers of her own….
Considering her family's history, Ania Dover should know better than to get mixed up with a criminal like Mitya, but she just can't stay away. Something wild in her responds to his presence. A need so strong it scares her. But she's not sure she can accept what he's offering. Ania has always been an independent woman, and Mitya expects to be obeyed in all things.
Even with her body calling out for his, Ania won't let anything stop her from settling a deadly score years in the making—not even the man who wants to claim her as his mate.