The Bakeshop at Pumpkin and Spice: Halloween is a favorite holiday of mine. I was very happy to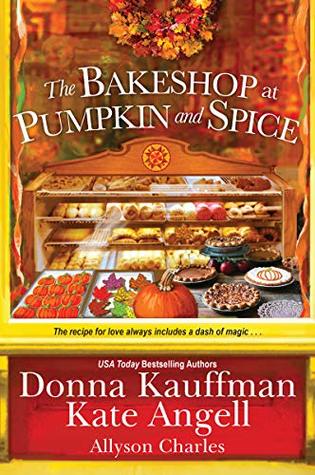 find this holiday anthology entitled The Bakeshop at Pumpkin and Spice. The stories in this book all center around a small town in Maine called Moonbright. This town is known for all its Halloween festivities which bring big crowds every year to help celebrate Halloween. The main attraction is their grand Halloween Parade. The stories have been written by Donna Kauffman, Allyson Charles and Kate Angell.
In the first story, Donna Kauffman's Sweet Magic, the reader is introduced to Bellaluna's Bakeshop. The Bellaluna women traditionally had the ability to bake a touch of "love magic" into their special Italian cookies. Heroine Adriana Bellaluna O'Neill thinks she doesn't have the family magic touch until Hero Caleb Dimitriou tries one of her Italian cookies.
The next story, Love Spells Disaster by Allyson Charles has heroine Cassandra Hie taking the magic Italian cookies from Bellaluna's Bakeshop to her office for her boss who she has decided is the perfect "steady" partner for her. After hero handyman Chip Gneiss saves Cass from choking on one of the cookies he helps himself to the other "magic" Italian cookie.
In the final story, Sweet On You by Kate Angell heroine Lara Shaw shares the "magic" cookies with hero Mayor Jack Hanson. Here's where the reader gets to enjoy all the fun and excitement of the grand Halloween Parade.
I really enjoyed reading all three stories. The main characters were very likeable and the stories had fun storylines. Fans of small town romance and Halloween will love this anthology!
Book Info:

Publication: August 27th 2019 | Kensington |
Every autumn, Moonbright, Maine, is the picture of charm with its piles of crisp leaves, flickering jack-o'-lanterns … and a touch of the sweetest kind of enchantment.
Witches, goblins, the occasional ghost—they're all sure to be spotted at the annual Halloween parade, where adults and children alike dress in costume to celebrate Moonbright's favorite holiday. And no place has more seasonal spirit than Bellaluna's Bakeshop, a family business steeped in traditional recipes, welcoming warmth—and, legend has it, truly spellbinding, heart-melting treats …
Between good-natured Halloween tricks, frothy pumpkin lattes, and some very special baked goods, for three Moonbright residents looking for love—whether they know it or not—the spookiest thing will be how magical romance can suddenly be …
PRAISE FOR THE COTTAGE ON PUMPKIN AND VINE
"This wonderful, well-written collection calls to mind brisk autumn nights cuddled with a loved one."
—Publishers Weekly
"This diverse trio of stories bring three couples to love with a charming, slightly sexy Halloween flair … Sassy, funny, and dusted with magic."
—Library Journal
"Delightful and spicy. . . . With humor and a little mysticism thrown in, each story winds its way to a happy ever after. Every pairing comes to fruition in a unique way."
—RT Book Reviews, 4 Stars
Includes cookie recipes!