The Highlander's Christmas Bride by Vanessa Kelly is the second book in the Clan Kendrick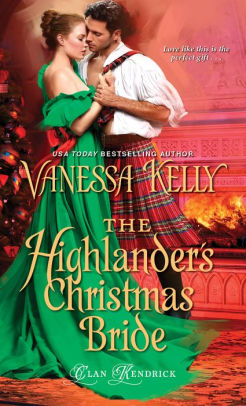 series. This was a great book to start the Christmas reading season off with. The book was well written, and the characters were perfect for each other. It is part of a series, but it was fine as a standalone. Although now I am determined to read Ainsley and Royal's story after reading about parts of their story.
Donella Haddon was months away from taking her vows as a nun when she is told she is being "kicked" out of the convent. She had joined the convent three years prior when her cousin and fiancée, Alec, had married another woman. She wasn't sure she was ready to rejoin the world and face all the problems and gossip she had left behind.
Logan Kendrick was involved in an unfortunate incident in the past that left him feeling guilty. He had moved to Canada where he had started his business of timber and fur trade. When he returned to England to expand his business, he had left his son, Joseph, in Canada. He missed his son but thought he was better off there with his grandmother. He was negotiating business with Lord Riddick who asked Logan to escort Donella home from the convent. He was expecting to escort a crying spinster home, but Donella was not what Logan expected at all. She was a strong, beautiful, and feisty woman.
Their two-day trip gets extended when Donella is almost kidnapped. They had to change travel plans in order to escape the Murray clan. They hiked to a crofter's cottage where Donella's cousin, Alec, meet them. As they travel Donella realized that Logan is big, bossy, and annoying but underneath it all he had a kind heart. Once they got home, their families contrived to get them to spend more time together. Donella allows her family to talk her into waiting six months before going to another convent. Logan comes to realize that Donella is perfect for him and his son, but their pasts starts to interfere with his courtship. Can he keep Donella safe, silence the gossip about her past, and convince her to marry him?
The book was a wonderful holiday romance. The main characters were strong, clever and witty. All the family members were well developed and added to all the emotions felt in the book. The author's description of the views the characters see on their hike is wonderful and sounds picture perfect. Overall it's another great book by the author and a must read holiday romance!
Book Info:

Publication: November 1st 2019 | Zebra Books | Clan Kendrick Book 2
In bestselling author Vanessa Kelly's irresistible Clan Kendrick series, Christmas in the Highlands means family, celebration—and for one brother, the beginning of a passionate adventure…
Being thrown over by the man she expected to marry was humiliating enough. Now that Donella Haddon, grandniece of the Earl of Riddick, has also proven a failure as a nun, she has no choice but to return to her family's estate. The brawny Highlander sent to escort her is brash, handsome, and the only thing standing between Donella and a gang of would-be kidnappers. But the scandal in her past can't be so easily outrun…
Wealthy widower Logan Kendrick was expecting to meet a plain, pious spinster—not a gorgeous, sharp-tongued lass who can hold her own in any ambush. Though she's known as the Flower of Clan Graham, Donella is no shrinking violet. In fact, she might be the perfect woman to bring happiness back to his lonely little son's life, just in time for Christmas. But first he must protect her from ugly gossip and a mysterious threat—and convince her that their wild, unexpected desire is heaven sent.