I've Got You, Babe (Bachelors and Babies #2) by Lynnette Austin: I can't say enough good things about this super story. The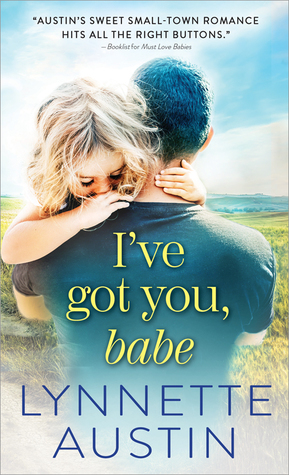 storyline is sweet, poignant and full of warmth. I smiled throughout as I read along (also with many chuckles and guffaws). There were tears too on the way to Elisa's and Tucker's HEA. Lynnette Austin's characters are real and relatable.
Tucker Wylder owns Wylder Rides, a vintage car and motorcycle restoration business with his two brothers. They have five days to finish restoring a custom '63 Corvette for a Hollywood executive. Time to get the job done! Tucker is busy working, laying on the creeper partially under the Vette, when he hears a car approach and stop outside. It is too early for his brothers to start work so who can this be?
Whoever it is needs a new car since what he hears is a dying car outside. Then he hears the sound of heels on the concrete floor and sees legs, the longest, sexiest legs which has him just about drooling. From there his gaze travels upward to view the "real deal," the most beautiful woman he has ever seen. As he starts to get up to question why this beauty is in his garage, the woman, Elisa Danvers sways and starts falling. Tucker catches her just before she hits the floor. Now he has an unconscious woman on his hands and to add to the stress he hears a child crying in Elisa's car. What to do first? He makes the call to 911 to get an ambulance on the way. The child, three-year-old Daisy is crying for her Mommy. Tucker grits his teeth, what does he know about little girls, and drives little Daisy to the hospital. The cute little girl talks his ear off the whole way to the hospital and renames him "Tut." The wall around his heart starts to crack. What is he going to do with this cutest of little girls and her sick beautiful Mommy?
I've Got You, Babe by Lynnette Austin is the second book in her Must Love Babies series. This book features the oldest Wylder brother, ex-Marine Tucker Wylder. This is such a wonderful series and this second book continues the author's trip into the warm and friendly small town of Misty Bottoms, GA and the lives of the Wylder brothers. (This is also the setting for Austin's previous series, Magnolia Brides which I highly recommend.)
I fell in love with Elisa, Tucker and little Daisy. Elisa is so strong and determined to make a go of it even as she is down on her luck. Tucker is the big, bad, tough ex-Marine on the outside but it turns out he is soft and squishy on the inside with a heart of gold even with his issues from a deadly incident during his tour in Afghanistan. Then there's Daisy, the cutest, endearingly rambunctious, most precious little three-year-old girl that will steal your heart in a New York minute. Readers will laugh at her parroting the swear words Tut keeps letting slip. She will surely have you wrapped around her little finger just like "Tut." I loved this story and readers who enjoy small town romance with lots of warmth and laughter will too!
Book Info:

Publication: August 27th 2019 | Sourcebooks Casablanca | Bachelors and Babies #2
Where do you go when you're at the end of your rope?
Former Marine Tucker Wylder wants nothing more than to work with his brothers in their vintage car restoration business and be left alone with his nightmares and regrets. The last thing he needs is to take on someone else's troubles…
Then Elisa Danvers and her young daughter arrive in Misty Bottoms, Georgia. Elisa has reached the end of the line–flat broke, engine trouble, sick in body and spirit. Tucker steps up to the rescue and finds himself reluctantly taking care of a feisty preschooler and her independent mother, who doesn't seem to want his help. And Tucker isn't sure he's ready for the way precocious little Daisy and headstrong, beautiful Elisa herself capture first his bachelor household and finally his carefully guarded heart…