In Letters to Molly (Maysen Jar #2) by Devney Perry, Years ago, college sweethearts Finn and Molly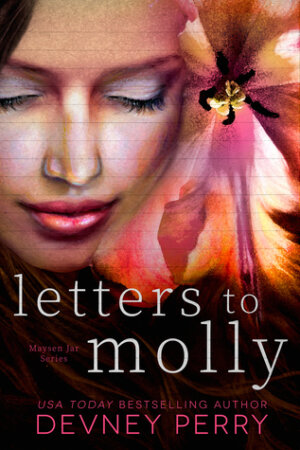 Alcott dreamed of the wonderful life they would build together, seeing nothing but success and happiness on the horizon. Of course they knew there would be tough times. But they expected the good to outweigh the bad. So when things started to unravel over the years, little by little, so slowly that they almost didn't realize it, Molly and Finn were shocked when they each drew a line in the sand. And especially when they couldn't compromise or get past some of their serious mistakes.
'Some mistakes were unforgivable. Some mistakes came with a regret that lived like a monster in your soul.'
Years later, Finn is running the landscaping business they started together while Molly is running the business side of the Maysen Jar restaurant. They've worked out a schedule to share custody of their two kids, Kali and Max. And they're making it work. But when a letter arrives in Molly's mailbox, a letter Finn had written back when they first started dating, she's both thrilled and saddened. As wonderful as it is to go down memory lane to a time when it was all new and exciting, it makes her wonder where it all started going wrong. And when Finn confesses that there are more letters–but that he's not the one sending them–they both begin to explore what could happen if they heal old wounds.
"What are we doing?"
Finn raised his other hand and brought it to my face. He cupped my jaw, then slide his palm back until his fingers were threading through my hair. "Being foolish."
A second chance romance for the ages which uncovered the emotional turmoil that broke apart two people perfectly suited to one another, Letters to Molly trampled my heart to pieces and then put it back together with its triumphant ending.
'With his letter in my hand, it was hard not to question every day since. We'd had so much love. How did we get here? How did we get all the way from that letter to us now?'
I have become a *huge* fan of Devney Perry's writing over the past year. So if I go all fangirl and gush over this book, I apologize in advance. Letters to Molly was everything I love about Perry's writing but it was so much more of an epic romance than I expected it to be–particularly where we were able to see all the different moments that went right and those that went horribly wrong over the years for Finn and Molly. Their heartbreaking journey was so real and filled with such raw emotions that I felt like I knew and truly understood them. Something that I think Perry excels at with her characters, who, like the rest of us, are flawed and make the wrong choices from time to time. Such was definitely the case for Molly and Finn.
Second chance romance is one of my favorite tropes and Perry proved that she can deliver the perfect setup for it to happen naturally. I loved both Finn and Molly. I didn't love some of the things they did over the years but that didn't make me believe any less that they still belonged together. I won't get into the particulars. It's better if you read it how Perry intended and get those wonderful surprises and a few of those gut-twisting moments as the story unfolds.
We did have an incredibly diverse cast who all lent something important to the story, even some humorous moments (Randall & Jimmy!) when it was needed. But it was getting to read each of the letters and watching both Finn and Molly's honest reactions to them as they relived their past, finally getting to deal with the emotional issues they glossed over in their marriage, that simply wowed me. I also adored the way Perry drew it out until the end to reveal who sent the letters to Molly. I had my suspicions but it was fun to find out the reason why and see the results of it all.
Letters to Molly was an unbelievably touching novel of introspection and romance, unique in its setup and heartfelt in its delivery. It will tug at your heartstrings and have you longing for more time with this memorable cast. Highly recommended.
Book Info:

Publication: June 18th 2019 | by Devney Perry | Maysen Jar #2
Molly and Finn Alcott had the picture-perfect marriage. With two gorgeous children, a lovely home and their own business, they were the couple others aspired to be. But when news of their divorce spreads through town like wildfire, it sends their beautiful image up in flames.
Molly spends years mending her broken heart. She finds joy in a life centered around her kids and career. Her happiness has a different picture now.
Then one day, she finds a letter in her mailbox. Written in Finn's handwriting, dated over fifteen years ago, it's a letter he wrote Molly after their first date.
Week after week, Finn's letters appear. Each marks a date in their history. Each holds the confession of the man who still owns Molly's heart. Each heals a wound from their past.
It's just too bad Finn isn't the one sending them.