Playing House by Ruby Lang Oliver loves his field of urban planning, but is struggling to find a job. Contract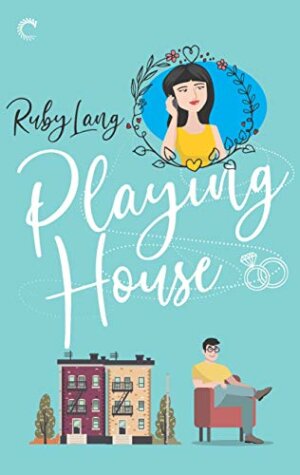 work is fine and he's able to do projects he loves, but he's less a fan of living with his brother. He's smart, nerdy, and passionate.
Fay is learning how to be on her own again. She's come to terms with the divorce, but she's not real interested in dating. She loves the company she started with her partners and the work she does.
Oliver and Fay both work in urban planning. They have been friends for years and sort of lost touch for a while. They run into each other and immediately pick up their friendship. Their mutual love of buildings and housing finds them pretending to be a couple and touring interesting real estate in New York.
"I think I'm kind of enjoying this story she's made up about Oliver and Darling."
"That we've made up entirely."
"That has some tiny kernels of truth. Like we're both urban planners and that's how we met. That we genuinely love and admire this neighborhood, and good woodwork-"
By starting a fake relationship, they end up in an odd place. With both slightly unsure of themselves, they want to try being together for real. They have a lot in common and could talk about their jobs all day long. It's not exactly smooth sailing as both also have things to figure out outside of their budding relationship.
"More real estate. I feel like I'm being wooed."
"Well, it's real estate that neither of us can afford. Fantasy real estate. But yes, I want to see you, and uh…"
She stopped. She didn't want to talk to him about her feelings.
"I can't stop thinking about you either," he murmured.
Playing House is a quick read. Ruby Lang created interesting characters in a friends to lovers story. Ms. Lang provided conflict, family, and friendship. Fans of Natasha Anders and Alisha Rai will enjoy Playing House.

Book Info:

Publication: August 12th 2019 | Carina Press | Uptown #1
Romance blossoms between two city planners posing as newlyweds in this first in a bright new series by acclaimed author Ruby Lang
The last thing Oliver Huang expects to see on the historic Mount Morris home tour is longtime acquaintance Fay Liu bustling up and kissing him hello. He's happy to playact being a couple to save her from a pushy admirer. Fay's beautiful, successful and smart, and if he's being honest, Oliver has always had a bit of a thing for her.
Maybe more than a bit.
Geeking out over architectural details is Oliver and Fay's shared love language, and soon they're touring pricey real estate across Upper Manhattan as the terribly faux but terribly charming couple Darling and Olly.
For the first time since being laid off from the job he loved, Oliver has something to look forward to. And for the first time since her divorce, Fay's having fun.
Somewhere between the light-filled living rooms and spacious closets they've explored, this faux relationship just may have sparked some very real feelings. For Oliver and Fay, home truly is where their hearts are.
One-click with confidence. This title is part of the Carina Press Romance Promise : all the romance you're looking for with an HEA/HFN. It's a promise!