In Little Wishes by Michelle Adams, Once, in what now seems like a lifetime ago, Elizabeth Davenport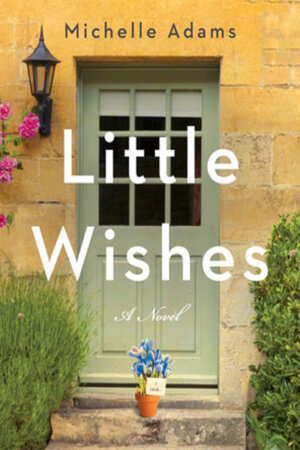 fell in love with a young man in their seaside Cornish village who was deemed unsuitable by her father, the local doctor. Circumstances–some beyond their control and some of their own making–tore Elizabeth apart from her beloved Thomas Hale. But they certainly never forgot each other. As was evidenced by the fact that for the last forty-nine years he has left a beautiful blue crocus along with a perfect little wish on her doorstep in Porthsennen on the exact day they fell in love. It's when the momentous fiftieth anniversary arrives with no flower and no wish that Elizabeth begins to wonder if Tom finally gave up on the tradition–or if something happened to him.
"But when you are with the people you love there is nothing that one cannot find the strength for. One can always find the light through the dark when there is love, no matter what is expected of you."
After a lifetime spent apart, Elizabeth isn't sure that tracking Tom down in London is the best idea. But the thought that something might have befallen him has her hastily leaving her coastal village for the big city regardless of how silly it might seem to some. Besides, Elizabeth knows at their age, mid to late sixties, time is of the essence. Truer words have never been thought of, let alone spoken, when she finds Tom wrapped up in a battle he's not sure he can win. But Elizabeth vows to spend every precious moment they have together, albeit avoiding a piece of her life she isn't ready to confess to yet. If, in the process, they can fulfill some of the wishes Tom left on her doorstep, all the better for it. Real life, though, continues to intrude and unfortunately threatens to bring their time together to an end just when they finally found each other again.
'Was there still time to put right the things she had done so wrong, and make his wishes come true?'
Little Wishes was an endlessly romantic but intensely bittersweet second chance romance that reduced me to tears of frustration, heartbreak and, yes, eventually even of joy.
"Didn't we promise each other once that nothing would ever change for us?"
"I believe we did," he said with a smile.
"And I'm here, aren't I? Whatever happens, we'll face it together."
Trigger Warning: View Spoiler »Detailed account of daily life with terminal cancer. Cheating. Attempted and assisted suicide. « Hide Spoiler
I will say up front that I have a feeling this book is going to be tough for some readers to get through. Not because of the writing, which was flowing, emotional and wonderfully descriptive. But because of the subject matter in regard to Elizabeth's mother, and about our hero Tom. Without giving spoilers, his health was not what it was back when he fell in love with Elizabeth, which, considering their love story was fifty years in the making, was somewhat to be expected. Between the sadness of seeing Tom and Elizabeth finally find their way back to each other so late in life and decisions they made in their youth, it will be a tough sell for some readers. But I'm very glad I persevered because they truly were the sweetest couple.
The format of Little Wishes, alternating between "Now" in the present day and "Then" back when Elizabeth and Tom began to fall for each other, was perfect for this type of intricate story. As both parts of the story progressed, I began piecing together what happened to separate them and kept them apart for so long. It was sad and made me want to rail at several of the characters. But the idea of Tom leaving a crocus and a heartfelt wish every year for Elizabeth? Swoon. Seriously. He was such a wonderful guy with a tough life lived even before what transpired with Elizabeth. She herself had some tough choices to make in a horrible set of circumstances that, while I don't necessarily agree with it, I understood where her–and Tom's–hearts were.
A tale of how decisions made have lasting effects; the complications of family, friendship, love and deceit. Michelle Adams crafted an incredibly poignant novel in Little Wishes, one sure to stick with the reader long after the final words are read.
Book Info:

Publication: Expected publication: November 17th 2020 | by William Morrow |
"A story of love long postponed but never forgotten, Little Wishes is a tale to be treasured. Michelle's Adam's lovely, luminous writing is a beacon that draws readers closer and brings them home to the lasting truths about life and love." —Marie Bostwick, New York Times and USA Today bestselling author of The Restoration of Celia Fairchild
For anyone who loves One Day in December and Me Before You, a sweeping love story, written with tenderness, warmth, and a generosity of spirit, about first love and second chances, a lifelong dream and finding the courage to follow your heart.
On her favorite day of the year, Elizabeth Davenport awakens in her cottage on the wild and windy Cornish coast, opens her front door, and discovers a precious gift: the small blue crocus and a note that begins I Wish . . . They are not signed, but she knows they've been left by her first and truest love, Tom Hale. Each of these precious missives convey a simple wish for something they had missed, and the life they might have shared. She has kept them all.
But on this day, what should have been the fiftieth anniversary of their falling in love, the gift fails to arrive. Could something have happened to Tom? Elizabeth has always been plagued by thoughts of "what if?". Propelled by worry and decades of pent up longing, Elizabeth packs a little suitcase, leaves Porthsennenon, and journeys to London . . . to find the love of her life once again, years after circumstances forced them apart.
Finding him, Elizabeth is faced with the desperate knowledge that any time they might have now is running out. Never before had she thought that she might truly lose time—forever. And now, knowing that life is too short, Elizabeth vows to fulfill as many of Tom's wishes as she can. Yet she fears that her efforts may expose the shameful secret that, until now, has kept them apart.
Can she continue to hide the truth, or will she have the courage to reveal herself completely and finally make their dreams come true—before it's too late?