The Royal Pregnancy Test by Heidi Rice  is a November 2020 Harlequin Presents which I adored!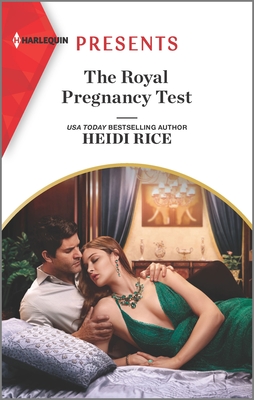 Chaos ensues after Princess Juno secretly swaps lives over the Christmas period with her twin sister Queen Jade, hoping to give her sister a glimpse of what normal life is like before the Queen has to settle into the confines of a loveless marriage with King Leo of Severene.
On the outside happy and carefree and labelled spoilt by some, Juno is shocked by the electrifying attraction that hits both her and Leo! Humiliated by a previous rejection from him long ago, she's thrown for a six. It's more than shocking to King Leo, it's unconceivable that out of nowhere his attraction to Queen Jade has hit him like a freight train, unlike when he met her earlier, he had previously felt nothing beyond royal duty to join two kingdoms.
Woven through a beautiful and enchanting alpine winter wonderland is a funny, emotional, entertaining and magical story, full of wonderful dialogue, mischievous adventure, sincere heartbreak and emotion that can only be created by the talented Heidi Rice. I found Juno to be so likeable and brave; and I loved her mingling with the townsfolk. Leo is also likeable and brave; the perfect dark to Juno's light and the scene where he finds out the truth is incredibly powerful with emotion.
What starts off as a not very well thought out plan turns into a journey of true love and strength that soulmates create. I really, really enjoyed Princess Juno's story and I cannot wait to see what to see what trouble Queen Jade has been getting herself into in New York.
Book Info:

Publication: 01/11/2020 | Harlequin Presents | The Christmas Princess Swap Duet #1
Royal drama has just taken on a whole new meaning in this sexy surprise pregnancy story by USA TODAY bestselling author Heidi Rice.
Carrying his Majesty's heir… Is she or isn't she?
Princess Juno won't stand by and let her twin sister be forced into a loveless marriage with King Leonardo of Severene. Juno switches places with her for Christmas, intent on ruining the match. A night of electrifying pleasure with the playboy King wasn't part of the plan!
Leo has never felt such searing attraction, least of all for his duty-bound fiancée. It's clear why, when her true identity is revealed! But Juno's princess swap is going to have shocking consequences, when they realize they need a royal pregnancy test…!
From Harlequin Presents: Escape to exotic locations where passion knows no bounds.
Read both books in The Christmas Princess Swap duet:
Book 1: The Royal Pregnancy Test by Heidi Rice
Book 2: The Queen's Impossible Boss by Natalie Anderson