Lord Tresham's Tempting Rival (The Peveretts of Haberstock Hall) by Bronwyn Scott, is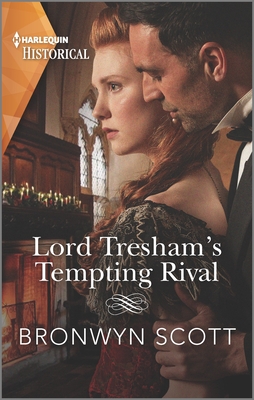 a delightful historical romance about overcoming fears to believe in love again.
Anne is a young woman who has come to London to achieve her dreams as a healer. She also wants to recover from a disappointment with her former fiancée. During her stay in the English capital, she meets Lord Frerris Tresham, a doctor trying to make medicine more accessible for the poor. Although both have the common interest of helping the less fortunate, their methods couldn't be more opposite; the struggle between conventional medicine, practiced only by men, and natural medicine, not recognized by the professionals back then. However, and seeing that his patients have stopped attending his clinic, Ferris offers a tempting agreement to Anne: to work with him, hiding that this would help him to have the numbers he needs to get approval from the medical board for his project (mobile clinics available for everyone), something that Anne doesn't know. But how will she react when Anne discovers the ulterior motives of the man she's falling in love with?
Anne is a woman ahead of her time. By teaching women how to cure certain diseases with herbs, she tries to help them (those in charge then of looking after the health of their husbands and children). Marriage isn't suitable for her, as it would force her to abandon her career to dedicate herself to her husband and children, or is what her experience has taught her. In a world where women are inferior and relegated to housework, Anne feels that a marriage would clip her wings and her desires to serve others would be rejected by men.
"Men were forever trying to fit her into their pigeonholes: mother, Madonna, mistress, saint, spinster, witch, whore."
Ferris, as the second son of the Duke of Cowden, has certain freedoms that his older brother, as heir to the duchy, doesn't have. After a tragedy whose wounds he hasn't yet healed, Ferris has taken refuge in his vocation, and in the process he tries to exorcise some demons from the past. The only thing he believes in? Tangible things in life.
"Love hurt, love disappointed. Love failed. Science and logic were the only truths a man could count on."
The unexpected arrival of Anne in Ferris' life, and vice versa, leads them to consider some aspects of their lives. Together, they make the journey to happiness without extravagance. Also, their chemistry and passion develop slowly but with great intensity. Of the historical romance books that I have had the privilege of reading — the historical genre isn't my forte, I admit it — this pair is, of all the ones I have read, the one I have most enjoyed. Their depth and how much they have in common make them memorable.
When it comes to technical elements, the author has used everything she has in her arsenal to bring us a fantastic story. From compelling lead characters, to unforgettable supporting ones without demanding excessive prominence, brilliant writing, and impeccable setting, Ms. Scott knows how to create an exciting and believable plot.
Developed in the fall of 1853, it shows the challenges of the time effectively, carrying an unforced message of empowerment and fighting for our goals. I am looking forward to reading the rest of the books in this series, as this has been the perfect start.
Book Info:

Publication: October 26, 2021 | Harlequin Historical | The Peveretts of Haberstock Hall #1
Nothing in common
Except an intoxicating attraction!
Sharing a steamy kiss with Anne Peverett at a Christmas ball is utterly out of character for Dr. Lord Ferris Tresham. He's far too busy treating London's poor to court anyone. Until Anne is revealed as the herbalist who's been treating his patients with her homemade remedies! If they unite forces, will Anne be a bigger threat to his practice…or his closed-off heart?
From Harlequin Historical: Your romantic escape to the past.
The Peveretts of Haberstock Hall Meet the philanthropic Peverett siblings: unconventional, resourceful and determined to make a difference in the world.
Book 1: Lord Tresham's Tempting Rival
Book 2: Saving Her Mysterious Soldier