A Time For Home by Alexis Morgan: Callie is between job contracts at the moment, temporarily staying at her parents home. When she hears shortly after arriving that her good friend Spence has died in Afghanistan, she is shocked and devastated. Even more shocking is that he's left his house and all his belongings to Callie. She is not sure what she's going to do…she feels like she'd be taking away all traces of Spence if she cleans out his house, but at the same time she's not ready to live in it. Besides traveling constantly for her work as a computer security expert, Callie doesn't think she's ready to be surrounded by reminders of Spence.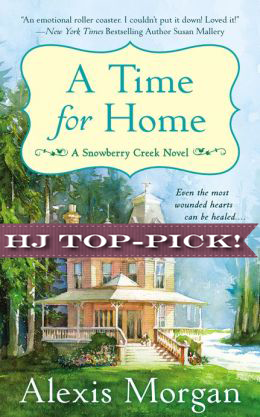 When Nick arrives in town along with Mooch, a dog rescued from Afghanistan, Callie sees another lost soul searching for a place to belong. Nick had no intention of staying in Snowberry Creek…he is hoping Callie will agree to keep Mooch so he can move on. After being in Afghanistan he is just looking to find someplace to just be and heal. Nick is injured, carries a heavy burden of grief and guilt over the loss of Spence, has many flashbacks to Afghanistan…and is having a lot of trouble assimilating back into civilization. Little does Nick know that he might have found the right place in Snowberry Creek.
When Callie offers to let Nick stay temporarily in Spence's house, he takes her up on her offer. He needs to let Mooch grow on her, right? He has no where else he needs to be, and as much as he feels it is wrong, he is drawn to Callie. When Callie talks about the possibility of turning Spence's house into a B & B, Nick offers to help her. He doesn't know what he'll do next, but he knows he's starting to feel really comfortable in Snowberry Creek, and he is very attracted to Callie, even though in his mind she's Spence's and off limits. Callie is definitely attracted to Nick, and in more than the brotherly way she feels about Spence. She knows he's attracted to her, but is getting a lot of mixed signals from him.
Nick wants Callie, but he thinks he can't have her. He is having a lot of trouble adjusting to being out of Afghanistan, and sometimes he doesn't know what's real and what's not. How could he expect someone like Callie to want to be with someone like him? Not only because of the flashbacks, but he feels responsible for Spence's death. Callie seems to understand him in a way no one else at home does, but Nick is angry with himself for feeling how he does about her. No matter how good the chemistry, now is not the time for Nick to start a relationship. He is leaving anyway…
Callie hasn't been very settled in her adult life either…moving around from job to job, no relationship. More and more Snowberry Creek is starting to feel like home again. Having Nick around is something she is getting used to. The more time she spends with him, the more her heart hurts for when he'll leave. Callie just seems to get Nick, except for his feelings about her, she intuitively knows what he needs and feels.
If Callie and Nick are to have any kind of future together, they'll realize that love doesn't always come easy…sometimes the road to love is bumpy, but it will be worth the journey if they can get there. Nick is going to have to trust in himself before he can trust in anyone else. Will he see that he can trust Callie and their feelings before he pushes her away for good?
Wow!!! Alexis Morgan gives us a book filled with emotional ups and downs that will make you smile but will also make you cry (I can only think of one other book I've ever cried while reading!). Alexis writes A Time for Home with such feeling and realism that you can feel with Nick and Callie. I loved, loved both of these people. They are perfect for each other if they can find their way together. Nick is so strong, but so injured both emotionally and physically. He wants to do the right thing, but sometimes even he doesn't know what that is. Callie has such a loving and understanding heart. As I said before, she just seems to intuitively know what Nick needs, even when he is frustrating her. I really wanted these two to end up together, but mostly I found myself really just hoping that Nick would heal and be happy again.
I can't wait to read the next book in this series, the secondary characters we meet in A Time for Home were perfect additions to the story…giving you a glimpse of who we might read about next.
I highly recommend A Time for Home by Alexis Morgan…she will give you a romance you will feel in your heart long after you finish reading the book.
Book Info

Publisher: Signet | Publication date: 9/3/2013 | Series: Snowberry Creek Series , #1
Welcome to the small rustic town of Snowberry Creek….
As Nick Jenkins travels from the war zones of Afghanistan to his comrade's hometown, the kinds of wounds he carries with him have little to do with the shrapnel damage to his arm. Burdened with the guilt of failing to save his friend Spence, Nick is nonetheless determined to find a home for the dog that had been Spence's constant companion.
Callie Redding, Spence's childhood best friend, was shocked to learn he left her his old Victorian home. She's even more surprised when one of his war buddies shows up with a dog at his side—and a heavy weight on his shoulders. As a tribute to their friend's life, Nick agrees to help Callie turn her inheritance into a welcoming bed-and-breakfast for the town of Snowberry Creek.
But as they work through their grief together, they also share something far more precious—the belief that love is worth fighting for….