Love At High Tide by Christi Barth:  Darcy Trent is on a well deserved vacation with her best friend Trina in Ocean City Maryland.  Darcy just graduated college with a PhD in cultural anthropology.  After years of non-stop studying and field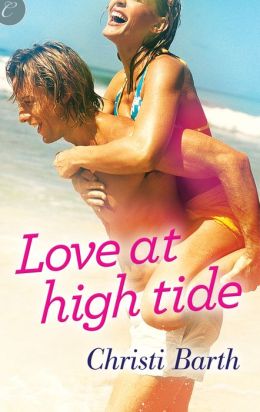 work, she has a single week off to relax and decide upon a life changing job offer.  She nearly drowns while swimming in the ocean when hunky, off-duty Maryland State Trooper Cooper Hudson comes to her rescue.  Darcy and Cooper have instant chemistry and sparks ignite.
Trina is a smart but eccentric young women that changes careers as often as the average person changes clothes.  This week, Trina is studying to be a Private Investigator.  With just her PI handbook and trusty partner Darcy, she stumbles upon a probable criminal, whom she has termed "Ivan"  for identification purposes. Naturally, Trina's observation tactics are that of an amateur, and Ivan notices them on more than one occasion.  Trina actually gets so close to Ivan that he is able to grab her, which causes her some bruising.  Luckily, Darcy thinks fast, gets him in the face with pepper spray and they escape his clutches.
Rating:
Lauren's Rating: 2 Hearts
I wanted to read this book because I liked its synopsis and earlier books authored by Christi Barth. However, I was disappointed with this one.  I found the romance in this story flat and lacking.  The book was more about Trina and her wacky shenanigans than the relationship between Darcy and Cooper.
 Yazmin's Rating: 4.5 Hearts
A fun, sexy and hot romance that moves at a fast pace but definitely leaves you satisfied, don't miss Love at High Tide by Christi Barth.
As you can tell there are varying opinions on this book; if you have read this book we would love to hear what you thought about it.
Book Info
Publisher: Carina Press (July 8, 2013)
Darcy Trent is lucky Cooper Hudson is on hand to sweep her off her feet—literally—when she nearly drowns while swimming in the ocean. But life-saving aside, Mr. Perfect's timing stinks: Darcy's career is about to take her to the complete opposite side of the Atlantic. Still, a little summer loving with the tall, blond and sexy former cop is far too tempting to pass up.
When his plans to enter the Secret Service went south thanks to a bum knee, Coop retreated to the family beach house to mull his future. Romance is the last thing on his mind, until he fishes a curvy brunette out of the sea. Now, spending time in Darcy's arms seems like the ideal distraction, even if it is just for a week.
But with Darcy's departure date fast approaching and their careers on the line, can they realize in time that their beach fling might become the real thing?
46,000 words