In Beauty and the Wolf by Marina Myles, Lord Draven Winthrop, Earl of Dunwich, has been searching for a cure to end the gypsy hex placed on him when he was sixteen years old. Years later, he is still no closer to finding it until he encounters a beautiful young lady at a society party. He reads in the newspaper that Isabella Farrington's father is an Egyptologist and has given her a necklace he uncovered with supposed powers that may prove useful in Draven's quest. He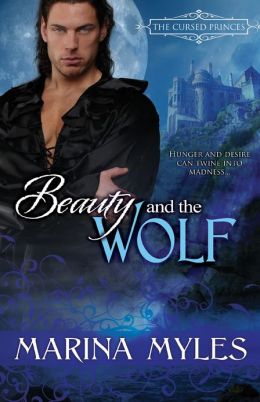 finds Isabella very attractive and engaging so he decides to court her in hopes she'll marry him. He's heard gossip that she and her father have fallen on hard times financially which will make it more enticing for her to marry a wealthy nobleman.
"After all, he was Lord Draven Winthrop, infamous rake and nonbeliever in love."
The night before Draven is set to marry Isabella, he encounters a wolf on his way to the local tavern and is bitten by it. He fears that coupled with the hex already on him, the bite will transform him into a werewolf on the next full moon. His worries are confirmed when he beings to change while in his bedchamber on his wedding night and scares Isabella away. He tries every way possible to contact her but she refuses to come back to Thorncliff Towers. Two years pass before he sees her again and at that point he knows he should beg her to leave him alone as he sinks further into madness. He fixates on her and yearns to feel her touch. Isabella arrives and seems determined to make their marriage work but Draven finds himself full of bloodlust whenever she is near him. He keeps trying to drive her away from him only to crave her more. He wonders if he can tame the animal inside him enough to create a life together with Isabella or will the wolf destroy them both?
"…her thoughts flew to Draven. Of how his touch had seared her skin like wildfire on their wedding night. Of how his deep kiss had blurred her senses–and how his ominous eyes would intrigue her until the end of time."
Isabella Farrington is aware that her husband-to-be, Lord Draven, is nicknamed the Earl of Madness in London's circles although he has been nothing but kind to her. She finds him wildly handsome and also knows that he will be able to help her financially. Isabella had promised her mother before she passed away that she would take care of her father, and that has become more difficult recently. She wonders if she has made a mistake when Draven becomes gruff and curtly on their trip to Thorncliff Towers after their brief wedding. Then she is further shocked when he begins to convulse with fury shortly after she enters his bedchamber that night. The few moments they shared together aren't enough to make her stay, so she flees into the night, not to return for two years. Isabella decides to go back so she can seduce Draven, giving him an heir to secure money for herself and her father. She doesn't expect to fall in love with her wild husband or to be drawn into a tangled mess that may cause them to meet their demise.
I enjoyed this debut novel by Marina Myles very much. The combination of historical and paranormal romance is perfect for this Beauty and the Beast story. It was interesting to watch Draven give in to his feelings for Isabella while he was at war with himself over wanting to protect her yet needing to keep her close. Isabella's struggle to figure out what was happening to her husband was understandable, and she was certainly brave in her dealings with him. There seems to be a little bit of something in this story for everyone: hot love scenes, gypsy curses and Egyptian lore, werewolves and mystery. Definitely recommended.
Book Info
Publisher: eKensington (June 6, 2013)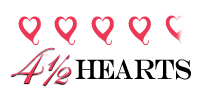 A Union Of Curses
Isabella Farrington's marriage was hasty. For all her new husband's riches, Lord Draven Winthrop is whispered about, avoided, and feared. Yet Isabella is drawn to Draven's dark good looks, his strength, the charm he can turn on as easily as she can blink. The impoverished daughter of an Egyptologist, she knows there are rumors about her, too, and the amulet she wears. Nothing more than superstitious babble. . .
But when Isabella returns to Draven's remote coastal manor, she senses there is something more at work in the grim gardens of Thorncliff Towers than superstition. Draven is passionate and seductive, but he has a brutal, uncontrolled side too, and a history of secrets. To live in peace she must discover the reasons behind a gypsy curse and a mother's scorn. Especially when she learns Draven believes his sweet young bride is doomed to a fate even darker than his own. . .
72.600 Words