In Love Under Quarantine by Kylie Scott & Audrey Carlan, His career in the NFL as a running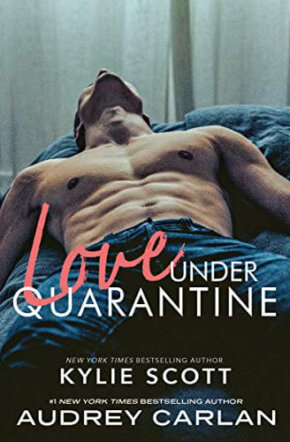 back is the one thing Evan Sparks has always been able to count on. He lives and breathes football. But when he's accused of misconduct, things begin to spiral out of control. Then his house-sitting gig for his best friend gets extended indefinitely after San Francisco is locked down due to a global virus–and Evan is about to crawl out of his skin. His saving grace? The gorgeous, smart-as-a-whip blonde in the next apartment over who doesn't have a clue who he is and what damage his career might be facing. As Evan spends time with Sadie on their balconies (at an acceptable social distance) he finds himself falling more and more for her. Who knows? Maybe the quarantine isn't the worst thing to happen after all.
'I'm into this girl. Really into her. I haven't so much as touched a hair on her head or held her hand and I can already feel my need to please her. To make her laugh.'
Sadie Walsh has been racking her brain to come up with ideas for her next book but so far she has zilch. Usually everything inspires her. But evidently it's tough to come up with a sexy romance when there's no special guy in her life. That changes when the ruggedly handsome apartment-sitter next door starts flirting with Sadie. Evan turns out to be a wicked temptation. And a source of inspiration for her book. But he also turns out to be so much more than eye candy and fodder for her writing. Evan gives her as much comfort in the middle of a pandemic as Sadie thinks she gives him. Just chatting, sharing meals (sort of), and making an expedition to the market brings them closer to a relationship than she thought possible. And Sadie's not sure that when this craziness ends that she'll be willing to give up what she and Even have found together.
'How lucky am I to have him willing to walk at my side (six feet back) and hang with me (on his own balcony) during these hard times? So many people are alone and afraid.'
Finding love during a pandemic? Yep, Kylie Scott and Audrey Carlan went there. And it totally worked. Love Under Quarantine had all the emotions you can think of and had me falling head over heels for our sexy football hero and his fiercely independent romance author.
'I'd very much like to get closer to him. Problem is, it's not allowed.
How do you date during quarantine?'
Now I know some readers won't be ready for a romance set during the pandemic quite yet, particularly where we're still in the midst of it. I honestly wasn't sure I was ready for it either. But it's a Kylie Scott romance so I had to give it a try. And her co-author, Audrey Carlan, is someone whose work I've wanted to read for a while now. I have to say that I loved the time spent with Sadie and Evan. They were adorable together, and their chemistry…wow! Completely off the charts. And just like I've come to expect from Kylie Scott's books, the sexy time scenes will leave you needing a cold drink and a fan. (lol)
With this being set mainly in two apartments which were side-by-side in a high rise, it created an intimacy that was perfect for a friendship to blossom, which turned into a whole lot more. I loved Sadie and Evan's chemistry right from the start. She was a bit sassy and he was so flirtatious that it made their conversations super quick and highly entertaining. I wasn't sure about Evan at first–he started off sounding like a partier and a player. But within a couple of chapters I was sold on him and rooted for Evan to win Sadie's heart. He was such a caring guy but without losing his alpha side. Kind of a big softie, seeing as he was a huge football player with an even bigger…heart. And behind all the naughty comments and flashing of his manly physique, Evan was a romantic. So he knew what he had with Sadie was something to treasure. Sigh…
Sadie was awesome. She was a popular romance author with unhealthy eating habits–which Evan liked to point out–and an ex-boyfriend who wasn't getting the hint he was no longer wanted. It was fun to see Evan pull Sadie out of her recluse-like habits while she wrote at odd hours and lived on caffeine and sugar. She also had a wonderful, giving manner so Sadie understood Evan's protectiveness of those he loved. They both had great senses of humor, too, which made this a joy to read. From the creative ways they found to deal with their, ahem, frustration to how Evan's best friend's cat Gloria put the fear of God into Evan, it was pure rom-com gold. It balanced out the heavier matter of what was happening in the world around them and how the virus touched their lives in both small and big ways.
Love Under Quarantine was a relatable modern romance that was at times intense, other times lighthearted, and was filled with delicious bantering that quickly followed up with heart-to-heart conversations and some soul searching. Kylie Scott and Audrey Carlan were definitely on their game when they crafted this heartfelt novel.
Book Info:

Publication: Published May 5th 2020 | Audrey Carlan, LLC |
While the world is ravaged by a global pandemic, hotshot NFL running back Evan Sparks is locked in his own personal hell. With a career-ending scandal on his back, Evan hides out in his best friend's empty San Francisco home, the full city shutdown locking him in a lonely twenty-story apartment in the sky.
Romance writer Sadie Walsh is having the worst case of writer's block ever…until the incredible, muscular stranger staying next door gets her muse going strong. The pair of loners, never expecting to find a friend in all the madness, meet each day out on their balconies like a modern-day Romeo and Juliet.
Each new day brings unique challenges for the pair as they navigate the unknown and find solace together. They quickly figure out that as long as they have one another, they can handle anything.
Even falling in love under quarantine.