In Love's Little Instruction Book by Mary Gorman, we begin with Denise Johnson throwing a divorce celebration with her friends, and the best way to do it is to throw and break the ugly china given by mother-in-law that she hated. Now that she is rid of her cheating ex-husband she plans to go back to live with her romance novel-writing mother while she starts a new life in Boston working as a deejay at a radio station.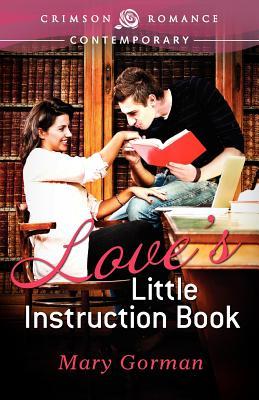 Dave DiSciullo wants to start a family of his own, he is happy babysitting and helping his sister and brother in-law with the little ones, but that is not the same thing. The only glitch in the plan is that he won't settle for anyone less than his perfect match. So when Dave meets his new co-worker Denise, he knows he has found the one. She is sweet, smart and sexy, but the only problem now is getting her to notice him. He is a good-looking guy with a great guy next door personality, but he is not what you call movie star handsome.
Dave believes that he won't be able to measure up to her rich ex-husband and fortune 500 family. And so he embarks on a plan to find everything he can about Denise and see if he can find a way to woo her. The perfect plan forms when he finds out her mother is a romance writer, and his friends convince him that she must have high expectations and to be able to know what will make her swoon they have to start reading romance novels. But to say that the stories they selected to begin reading are so far fetched from reality is being kind.
Both Dave and Denise have a lot of issues to resolve, him believing that he won't measure up and Denise with her vow to keep her independence. Before all is lost Denise will have to figure out the difference between independence and dependency because otherwise she may end up loosing Dave when she can't commit to him permanently.
For a fun, sweet and totally unpredictable journey to romance, don't miss Love's Little Instruction Book by Mary Gorman.
Book Info:

November 1st 2012 by Crimson Romance
Denise Johnson is on her way to starting a new life. She's left her wealthy, cheating ex-husband behind and moved back to Boston, where she moves in with her romance novel-writing mother and lands a job as a deejay at a popular Boston radio station. Finally back on the road to independence, the last thing Denise needs is another man in her life.
Dave DiSciullo wants to start a family, but he refuses to settle for anyone who's less than a perfect match. So when Dave meets Denise, his newest coworker, he's thrilled. She's sweet, smart, and sexy as hell. Afraid that he'll never get Denise to notice him, Dave comes up with the perfect plan – he decides to read romance novels and use them as guidebooks for how to woo and win a woman.
But even a well thought-out plan is not without its bumps, and Dave struggles to apply what he learns from the books to his courtship of Denise. What does it mean to be a hero? Do men and woman mean different things when they say "I love you"? And how do you "rescue" a modern, successful woman who doesn't seem to need any help?