So, Hopeless by Colleen Hoover didn't start out as good as it could have, in my opinion I found the beginning to be slow. But getting past the first fifty or so pages I was alsmost instantly consumed by Sky and Dean Holder. One of the main things I enjoyed about "Hopeless" was that Sky had been homeschooled in previous years and this year decided to persuade her mother to let her go to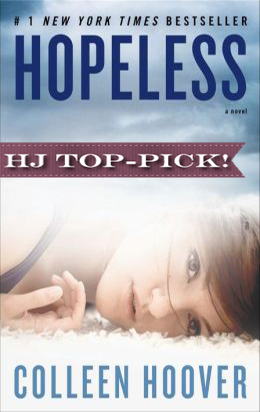 public school. Personally I know how that transition feels, and knowing first hand helped me connect more with Sky than I originally thought I would.
"Just because you blocked the memory of me out of your mind doesn't mean you blocked the memory of me out of your heart"
Of course every high school story deals with finding out who you are, and I quite enjoyed the uncertainty of who each of the characters would turn out to be . I really liked seeing Sky go from trusting Holder to not knowing if he is truly the person she has gotten to know all along.
This book is rather long but don't let that discourage you. The pace that the author has set up within the pages will cause a slight addiction and need to find out what happens next. Even if it is two in the morning. I would definitely suggest "Hopeless" to anyone who loves a good romance, and is looking for a good New Adult-ish' book.
"All marriages have a time limit if you enter them for the wrong reasons. Marriage doesn't get easier…it only gets harder. If you marry someone hoping it will improve things, you might as well set your timer the second you say, 'I do."
Book Info:

Published May 7th 2013 by Atria Books
Sometimes discovering the truth can leave you more hopeless than believing the lies.In this #1 New York Times bestselling novel by Colleen Hoover, author of Slammed and Point of Retreat, Sky meets Dean Holder, a guy with a reputation that rivals her own. Holder has the ability to invoke feelings in Sky she's never had before. In just one encounter he leaves her terrified yet captivated and something about him brings up a rush of memories from the past that she's worked so hard to bury away.
Sky knows Holder is nothing but trouble and tries to keep him at a distance, but he is adamant about learning everything he can about her. Sky finally caves to his unwavering pursuit, but she soon finds out that Holder isn't the person he's been claiming to be. When the secrets he's been keeping are finally revealed, every single facet of Sky's life changes forever.