In Faking Forever (First Wives #4) by Catherine Bybee, Going to Mexico to photograph a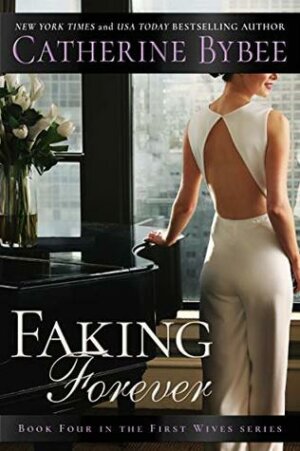 wedding sounds like a much needed vacation to the former first lady of California, photographer Shannon Wentworth. Since her divorce, she's been nursing a broken heart and feeling restless–until she makes a plan to become a single mom by finding a cute guy in Mexico to help her get pregnant. But things go wrong from the get-go. The bride has second thoughts. The weather isn't cooperating. The bride's mother is a monster. And the groom turns out to be surly, as well as suspicious of Shannon's involvement, when the bride pulls a runner. Handsome as Victor Brooks might be, she knows it's wrong to think such thoughts about him considering his fiancee just left him at the altar. But shared moments with him after the wedding fiasco subsides leaves Shannon to wonder if they should explore the attraction between them.
"I want to see you again."
"We aren't leaving until–"
"Back home," he clarified.
She wanted to deny him. "Victor–"
"In three months. Give me three months and then give me a chance."
What the hell was she supposed to say to that?
"Wait for me. Let me be the next man to kiss these lips."
Being jilted at the altar was not on Victor's radar when he arrived in Mexico. But he has to admit that work had taken over his thoughts instead of being focused on his bride-to-be and their big day. After family talks him into staying in Mexico to relax and sort his life out, Victor unplugs from his career for the first time in…so long he can't remember. The biggest surprise of all? He enjoys the sun, the sand, and most especially the charming photographer who saw him at his worst. Shannon is very different from his too-young former fiancee. But in the best of ways. And while it's too early to start thinking of a relationship, Victor finds himself bargaining with Shannon to give them a chance–in three months–once they have time to recoup and see what happens from there once back to their normal daily lives in California.
"This is a bad idea," she said as the robe slid to the floor.
His T-shirt hung on her, filled it out in all the right places, and stopped at the tops of her thighs. Long legs, legs he wanted to worship with his tongue, reached to her painted, bare toes. "A really good bad idea," he countered.
Faking Forever put a smile on my face and a thrill in my heart with the fiery match up in this fourth book in Catherine Bybee's phenomenal First Wives series. A meet-cute that went awry and an attraction that was ill-timed, this romance was one heck of an enjoyable heartfelt ride!
"Trust me. You're better off walking away now than going around faking forever with a man who isn't right."
Catherine Bybee can do no wrong as far as I'm concerned. With every new book, series and bunch of characters we meet, I fall more in love with her writing style. From the kickass heroines to the sexy alpha heroes she pairs them up with, I know it might be quite a journey for our lovebirds to finally get a HEA, but their hard-won victory will be so worth it. And boy does that describe Shannon and Victor. A couple who started off butting heads and ignoring their attraction when they first met, and then eventually showed the world how perfectly they fit into each other's lives.
I've been intrigued by Shannon since book one and I've wanted more details on her life as well as her time as the first lady of California. She had a quiet strength; someone who handled things with grace and who showed how selfless and caring she could be. What I loved about Shannon in this book is that she finally let loose a little. (Okay, a *lot* at times!) Deciding she wanted a baby, whether that meant in a traditional relationship or as a single mom, was a huge step for her. Then there was Victor. A man who brought out the sass in Shannon and with whom she shared some of Bybee's sexiest and most fun dialogue to date. I was so entertained by their interactions that I had a perma-grin the whole time. (lol)
I will be honest that I had a moment of doubt when we first met Victor. He was, well, an alphahole to be honest. But I had faith that Bybee would have him redeem himself and he certainly did. Turns out that too much work and no fun made Victor a cranky guy. But the real man under the designer suits was loyal, kind, wicked smart, and oh-so deliciously sexy. It felt like he and Shannon understood each other well and that he had her best interests at heart. Even when things got a bit dicey. Victor might have made some mistakes, but it seemed honest and fit the situation so I think fans will definitely forgive him for any blunders made.
Passionate, sultry, and filled with genuine emotions that ran the gamut, Faking Forever was a journey of self-discovery and of a love that was truly meant to be. Highly recommended.
Book Info:

Publication: March 12th 2019 | Montlake Romance | First Wives #4
From New York Times bestselling author Catherine Bybee comes a new First Wives novel about wanting a family…and finding love.
Shannon Wentworth's biological clock is ticking, and she isn't going to let her single status keep her from having a baby. When her wedding-photography business takes her to Mexico, she has every intention of finding a willing baby daddy to help her out. Until the bride goes AWOL, leaving Shannon to coddle the arrogant fiancé who has accused her of sabotaging his wedding.
Victor Brooks never could have imagined that he'd be on a honeymoon for one. Only here he is, taking a hard look at his life after the younger women he thought he loved walked out. The woman who volunteers to help him reflect is the last person he expects to be attracted to. Between the tequila, the sun, and one earth-shattering kiss, Victor finds Shannon a distraction too sexy to ignore.
They strike a deal: wait three months, cool off, and see if their tropical beach attraction is worth taking up when they go back home. Unfortunately, that's just enough time for the past to come calling. All their best-laid plans are at risk. So is the last thing Shannon expected to matter the most: her heart.