Luck of the Draw by B.J. Daniels is the second book in her Sterling's Montana series. This author is one of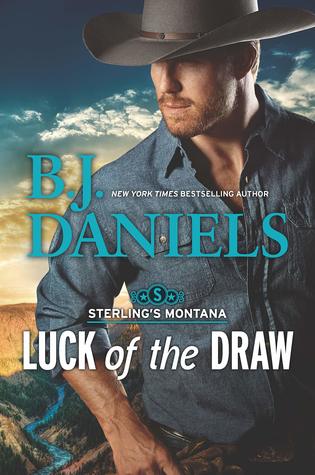 the top romantic suspense authors in Harlequin's lineup. B.J. Daniels always manages to keep her readers on the edge of their seat with her suspense stories. Luck of the Draw is no exception.
Garrett Sterling was in love with a lie. Well the woman he fell in love with in law school was nothing but a lie. She told him she was an undercover cop. He believed her. Then why did she disappear without a trace? Why did she suddenly reappear near the family's closed resort ranch with a guy holding a gun to her head?
Garrett Sterling fell in love with Joslyn Charles. Is that really her name? Now that "Joslyn" is in Whitehorse, Montana she claims she has amnesia after an accident. Garrett visits her in the hospital and sees that she remembers him. She seems to be in a lot of trouble. Despite all the lies, everything, he still feels the need to protect her. He realizes he is putting his life on the line to do so.
B.J. Daniels characters are always strong, well-likeable ones. Again, no exception here. I really liked the backup Garrett receives from his friend, soon-to-be-retiring Sheriff Sid Anderson and boyhood friend and Private Investigator Bill Mitchell. They play pivitol roles in this story.
Readers who enjoy cowboys and lots of action and suspense will want to grab a copy of Luck of the Draw.
Book Info:

Publication: May 21st 2019 | HQN | Sterling's Montana #2
He may get a second chance at his one true love–if someone doesn't kill her firstWhen Garrett Sterling leaves for a horseback ride through his family's sprawling Montana property, he's expecting a relaxing break from the construction at the Sterling guest ranch. What he gets is something far more sinister. It all happened so fast that it's hard for Garrett to sort out the facts. But two things are certain: someone is dead and the killer knows there was a witness.When a woman from his past emerges as a key piece of the investigation, Garrett is determined to uncover what really happened that day, how she's involved–and why everything she's ever told him is a lie.