In The Other Lady Vanishes (Burning Cove #2) by Amanda Quick, It's safe to say that waking up in a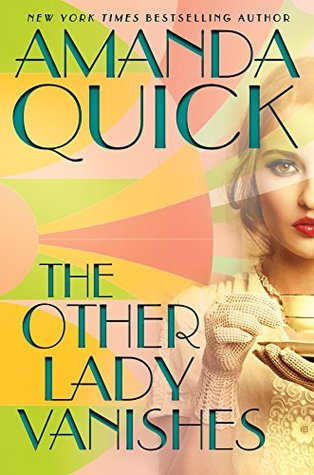 private sanitarium shocked Adelaide Blake to her very core. In between bouts of drug induced hallucinations, she concocted a plan to escape–which, thanks to her quick thinking–is exactly what she successfully did. But not before realizing that she was in danger for having too much knowledge about the experimental drug her captors used on her. Adelaide travels to Burning Cove, California to start again after fleeing the asylum. Although getting a job in the local tea shop in a town where the rich and famous vacation probably isn't as low key as she should have chosen in order to keep her identity safe.
'The problem was that if she told Jake everything, there was a very real possibility that he would conclude she was crazy. What man in his right mind would trust an escapee from an insane asylum?'
When Jake Truett becomes a frequent customer at the tea shop, a seemingly lonely widower who was a powerful businessman up until recently, Adelaide has no idea that he also hides secrets. It's when they are thrown together, both having their own reason to hide their true selves, that she realizes what a solid team they make. As they uncover a twisting, dark scheme filled with drugs and extortion, Jake and Adelaide follow the clues while trying to sort their own personal lives out. But when it appears their tragic pasts have a common bond, it will take all of the ingenuity and skills they have between them to keep themselves alive. Particularly since Adelaide and Jake both realize they may have the beginnings of a wonderful relationship on their hands.
"If you end up back at the asylum, I will come and get you and I will destroy anyone who stands in my way."
…"Jake," she said. "You cannot know how much that means to me."
"Maybe not, but I do know how much you mean to me. The world."
His mouth came down on hers in a kiss that sealed the vow.
What a fun ride it was reading The Other Lady Vanishes! Stylish and exciting, Amanda Quick definitely delivered with this second book in her 1930s era Burning Cove series.
'They were partners, at least for a while, bound together by a web of murder, drugs, and blackmail.'
I really enjoyed book one, The Girl Who Knew Too Much, and thought it was a pretty cool time period for a novel to be set in. I haven't read too many taking place in America in the 1930s like this–aside from WWII stories. So this appealed to me right away. Amanda Quick's writing was just as spot on as always, with multi-dimensional characters, lots of plot twists, and even a thread of romance in amongst the suspense and mystery. This can certainly be read as a standalone if you haven't read book one, but if you have then you'll recognize some of the same characters making a reappearance here.
While this was written from multiple POVs, the main characters were Adelaide and Jake. They made a nice couple, I thought, although theirs was a rather slow burn of a romance thanks to all that was happening around them. I loved the way Quick revealed information about their pasts and kind of wove it all around together until their stories were entwined. They both had secrets of course, but it was Jake I was most interested in learning about as things went along. Especially considering he was friends with shady businessman Luther Pell. Jake proved to be a wonderful guy who was intent on looking out for Adelaide right from the start. And she was one smart woman who was truly a survivor. She and Jake made a formidable team when they set out together to solve the mystery of who was behind the darkness that had touched their lives.
The glitz and fame of Hollywood paired together perfectly with the seedier side of the rich and powerful in The Other Lady Vanishes. A thrilling story all the way around, I think fans will absolutely adore this latest offering by Amanda Quick.
Book Info:

Publication: Published May 8th 2018 | Berkley | Burning Cove #2
The New York Times bestselling author of The Girl Who Knew Too Much sweeps readers back to 1930s California–where the most dazzling of illusions can't hide the darkest secrets…
After escaping from a private sanitarium, Adelaide Blake arrives in Burning Cove, California, desperate to start over.
Working at an herbal tea shop puts her on the radar of those who frequent the seaside resort town: Hollywood movers and shakers always in need of hangover cures and tonics. One such customer is Jake Truett, a recently widowed businessman in town for a therapeutic rest. But unbeknownst to Adelaide, his exhaustion is just a cover.
In Burning Cove, no one is who they seem. Behind facades of glamour and power hide drug dealers, gangsters, and grifters. Into this make-believe world comes psychic to the stars Madame Zolanda. Adelaide and Jake know better than to fall for her kind of con. But when the medium becomes a victim of her own dire prediction and is killed, they'll be drawn into a murky world of duplicity and misdirection.
Neither Adelaide or Jake can predict that in the shadowy underground they'll find connections to the woman Adelaide used to be–and uncover the specter of a killer who's been real all along…