Luckiest Cowboy of All (Happy, Texas #3) by Carolyn Brownis the 3rd book in the Happy, Texas series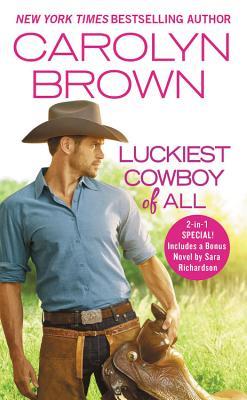 and let me tell you that this book is an amazing ending to a perfect series in my book. Hot cowboys, strong female characters, nosey and well meaning meddling grandmothers and you have a rip roaring great story. This is the story of Jace and Carlene.
Ever since his brother and sister have found love, Jace Dawson has thought of nothing but finding love and starting a family. But the problem is, there is only one woman that he thinks of when he dreams of the future, the one that got away, the one that he tried to reach but could not find, his old high school love Carlene Varner. Well, now she is back and she has a big secret in the form oa a little girl who is none other than his daughter. A daughter that he had no knowledge of until now.
When Carlene Varner realized that she was pregnant with Jace Dawson's baby, she left town without telling him. She knew they were too young to have a family, she was afraid that he would grow to hate her and their baby, so she hid. When she returned to Happy, Texas hoping to live in the house that was left to her by her aunt, she soon finds out that the house was sold to none other that Jace. To make matters worse, when said house burns to the ground, she and their daughter Tilly are left with no other choice but to move in with Jace for the time being.
As Carlene, Jace and Tilly spend time together, the sparks and feelings that Carlene and Jace shared so many years ago prove to be still there. But Carlene is still not sure if Jace only wants her because he wants their daughter, or does he really still love her. It will take everything that Jace has in him to prove to both Carlene and Tilly that his house is not a home and his life is not worth spit if they are not a part of it.
I really enjoyed the relationship with Carlene and Jace. They both still had feelings for each other, but both were afraid to voice those feelings. I like that Carlene took her time and Jace gave her the time and space to figure out what she really wanted, while all of the time proving over and over that he was there for both of them, that he would continue to be there for the both of them, no matter what.
Tilly added comic relief to the story and melted my heart with her reactions to Jace and how her feelings changed throughout the story. An amazing ending to a wonderful series.
Book Info:

Publication: January 30th 2018 | Forever | Happy, Texas #3
A secret baby brings a second chance for love. Carlene Varner's homecoming isn't exactly going according to plan. She thought she'd have some time to adjust before introducing her daughter to Jace Dawson, the father her little girl has never known. Instead, within days of her arrival, her house burns down and she and Tilly have no choice but to move in with the sexy cowboy himself at the Prairie Rose ranch. Now the whole Dawson clan-heck, the whole town of Happy-is all up in their business.
Jace has dealt with stubborn bulls and bucking broncos-but being a dad? He is so not ready for this… Yet the more time he spends with Carlene and little Tilly, the harder it is to imagine life without them. Now he just has to convince Carlene that he's the real deal-and hope that this time she's here to stay.