In Lucky in Love (Southern Bride #4) by Kelly Elliott, Truitt Carter has never really been in love.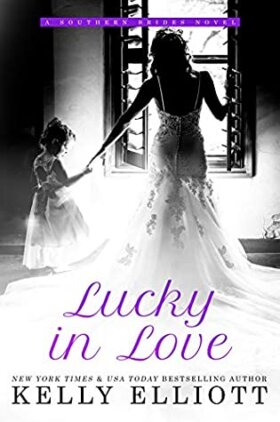 The closest he's been was the serious crush he had on his best friend's younger sister in school, a beauty named Saryn. To be honest, Truitt spends a lot more time building his business, creating custom playhouses for children, than he does growing his social life. Then Saryn and her adorable three-year-old daughter Liliana move back home. And Truitt's whole world changes. He falls back under Saryn's spell even though it's been nearly a decade since he saw her last. Pretty soon he can't think of much else but making Liliana and Saryn a part of his life for the long term. If they can get past his klutzy ways, Truitt will work hard every day to make them as happy as they can possibly be.
She took my arm and with her free hand, pointed to my ankle.
"Ouchy. S'okay, Momma make it better."
I stared at the little girl with the striking blue eyes as she gazed up at me with a smile so innocent I was left speechless.
Saryn's return to her hometown is bittersweet. She loves being able to see her parents and her older brother Ryan every day, knowing Liliana is also getting time with her family who adores her. It's moving past the defeat of getting a divorce and healing from the hurt feelings that slows her down. Who knew that taking a job in the ER, putting her nursing skills to good use, would land Saryn right in the path of her former crush, Truitt. He's every bit as handsome as he ever was–and just as accident prone. He also turned out to be an accomplished businessman who gets hired by her mom to design and build a playhouse for Liliana. Something Saryn can't let happen. Because if she has to spend time with Truitt, one on one, helping with the ideas for her daughter's gift, she'll fall helplessly for the cowboy again. And she can't have him break her heart–or her daughter's heart–just as they're starting to heal after her divorce.
"I fell in love with the boy who was my brother's best friend, and I don't think I ever stopped loving him."
You know you've just read an amazing book when you want to immediately turn around and start it all over again. Lucky in Love was exactly that for me. With genuine characters, a touching storyline, and the perfect balance of heat and humor, Kelly Elliott has wowed me once again.
"I've never met a man like you. You care so deeply, how is it no woman has ever snatched you up?"
I shrugged. "I think it's because the woman I've been waiting for was off on another journey, but I think she's on the right path now."
I'm a sucker for a story set in Texas and in Lucky in Love we had tons of that down home charm I crave, along with a focus on family and how living in a small town has both pros and cons to it. I think what I enjoy most about Elliott's writing is that her stories are character driven. There's always some interesting twists to the plot, but it's how realistic and relatable her cast is that captures my attention–and my heart. That couldn't have been more true about Saryn, Truitt and the rest of their family and friends.
Our heroine Saryn was just starting over after a divorce when this book began. It felt like she and her cutie pie of a daughter, Liliana, were meant to go back to Saryn's hometown and set down roots there. I adored both mom and daughter. (So did Truitt!) Their bond was so heartwarming and it was one of the things that swept Truitt off his feet. Over the course of the book, Saryn ended up being a lot more forthright and stronger than I think she even realized she could be, so it was nice to watch her gain confidence and trust in her instincts again.
Then there's Truitt. Our super clumsy–in an entertaining way–but seriously sexy cowboy who had a heart of solid gold. What's not to like about a guy whose business is to create one-of-a-kind playhouses that make children jump for joy, right? Didn't hurt that Truitt had an 'aw shucks' attitude with just a hint of swagger. But it was how hard he fell for little Liliana, how precious they were together, and how completely caring and protective he was of her and Saryn that made my heart soar. Seriously…every woman deserves a guy like Truitt. Well, maybe without so many injuries and ER visits. (lol)
I am absolutely swooning over Lucky in Love. Unrequited love (times two!), the trials and tribulations of small town life, family secrets, and a fresh start in a familiar place for our heroine, this novel had it all. Highly recommended.
Book Info:

Publication: June 9th 2020 | by K. Elliott Publishers INC | Southern Bride #4
When it comes to luck, I'm on the wrong end of the good side with more mishaps than I care to remember. Don't get me wrong, I'm a happy guy: single, decent looking, wealthy, with a waiting list of people who want me to make their kid's dreams come true with my custom-designed playhouses.
My life was exactly how I wanted it to be. That is, until Saryn Night walked back into my life with the intention of firing me. Good luck with that. One strong-headed, opinionated woman with a three-year-old little girl had turned my world upside down within five minutes. The moment they stormed into my office — bright blue eyes, curly brown hair, and a smile that would make any man fall to his knees, and that was just the daughter — I knew I was in for one wild ride that was guaranteed to turn my luck completely around.
Now, for once in my life, I found myself thinking that maybe, just maybe, I could finally be Lucky in Love.