Nothing Compares to the Duke by Christy Carlyle is the third and last book in the Duke's Den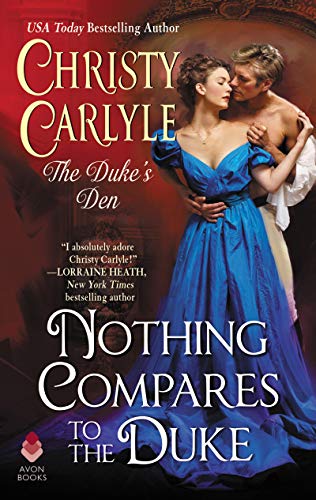 series. The entire series is good, but the books can all be read as a stand-alone. The book was easy to read and flowed smoothly. It was fast-paced and held my attention. The characters were developed and some from the previous books make an appearance to help the hero.
Rhys Forester, the new Duke of Claremont, lived a reckless life with parties and loose women and had earned his reputation as being scandalous. Rhys had made a fortune by investing with his friends in the Duke's Den, so he gave no attention to finances until his friends told him the investments didn't get funded. His struggle with reading had made him postpone his duties as the new duke, but he realized he needed to settle his new estates. He struggled with the ledgers and was not able to make any sense of them. The absence of Mr. Radley, the estate steward, lead him to believe that Mr. Radley had been stealing funds from the estate. He knew his childhood companion; Arabella Prescott would be able to sort the accounts. Rhys wasn't sure if Arabella would talk to him let alone help him. His behavior at her birthday party five years ago was reckless and he hadn't seen her since she told him to leave.
Arabella Prescott "Bella" had her heartbroken when she found Rhys in the arms of another woman at her birthday party. She was infatuated with him and had hoped he would propose to her that day. Her heart had been broken by his disregard of her feelings and she hadn't seen him since. She has had several proposals since her first Season, but she rejected them all. She loved solving puzzles and logical problems and was hoping to have a book of her riddles published. She wants to live a comfortable life alone and work on her puzzles, but her parents have decided to have a house party to celebrate her twenty-third birthday. They had invited four gentlemen for her to consider and wanted her to marry before they moved to Athens. She comes up with a plan when Rhys approaches her to ask if she would help him with the estate ledgers. She would help him solve the mystery of the estate loses if he would pretend to a fake engagement until her parents leave for Athens. Their search for Mr. Radley took them on an adventure and made Rhys realize that he was shamelessly following in his father's footsteps. He slowly came to realize his true feelings for Bella, but his reputation was ruined, and he was afraid it would hurt her reputation. Bella hesitates to trust Rhys again so tries to keep herself emotionally distant. They have several obstacles they must overcome if they want a future together.
This was a great book to finish the series and was enjoyable to read. The characters were great although at first, I didn't really care for Rhys but he did redeem himself. Bella held on to her anger for some time and she finally was able to let it go when she realizes she is stronger than she was when Rhys first hurt her. She could forgive Rhys and trust him with her heart. Rhys was a better man with Bella and wanted to be worthy of her and her trust. Bella's cousin Louisa played a large role in helping Bella to realize her dreams and I hope to see her in a future book.
Book Info:

Publication: May 26th 2020 | Avon | The Duke's Den #3
His Only Regret…
Rhys Forester, the new Duke of Claremont, lives his life by four words: Enjoy All, Regret Nothing. He's devoted to the pleasure of his wild soirees, reckless behavior, and shocking the ton with his interests in trade. The debts that come with his title don't fit the carefree lifestyle he's created, and when he's forced to return to his family's estate, he's also forced to confront his one and only regret: the beautiful girl he left behind.
May Be Falling in Love…
Arabella Prescott has been the belle of more balls than she cares to remember. After three seasons and five rejected proposals, she's done with the marriage mart. Bella's hopes to live a comfortable life, alone, come crashing down when her parents demand she marry. But her salvation may come in the form of the man she hates the most.
Bella has never forgiven Rhys for what he did to her, but desperate times call for fake engagements. With a few dozen rules, their scheme begins, but it's not long before the former enemies find themselves breaking every single rule, including the most important of them all: don't fall in love…