Lucy on the Wild Side by Kerry Rea: There are two things in life that really matter to Lucy, first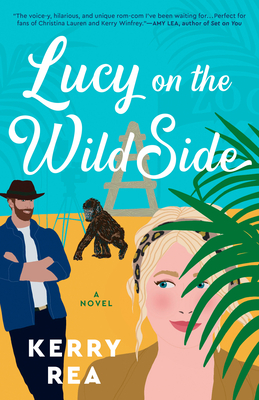 being her beloved Gorillas and second her guilty pleasure reality T.V shows. So when she hears that her life is about to turn into a reality show with On The Wild Side is coming to Columbia Zoo to film a new segment Lucy freaks out, why you might wonder… well that's simple, Lucy is the absolute worst in front of a camera! Im talking bad, bad, so bad that she tends to sprout out inappropriate animal facts out of pure terror! But if she wants to bag the position of senior zookeeper then this is her best short at proving to her boss that she is the right girl for the job. It also doesn't hurt that host of On The Wild Side Kai Bridges is the son of her idol and hero Dr Kimber, this really could be Lucy's one chance to meet her idol, all she has to do is make nice with super star Kai and try and not throw up every time a camera is pointed in her direction.
Well this would have been a grand plan if only Kai and Lucy didn't have one of the most unfortunate first meetings ever, now Lucy is convinced that Kai is this snooty D-list celeb that has no real talent and worst off all Kai has heard her say all of this! However not all first impressions are accurate, especially when it comes to Kai and Lucy. After seeing Lucy freeze up on camera he offers to help her get more comfortable, but even with well meaning intentions the two just can't seem to stop bickering! However everything changes when Gorilla baby Kiva arrives, with a truce formed between Kai and Lucy things being to shift and somewhere between trading weird animal facts, helping Kiva settle in and a stollen kiss at a Gorilla nursery Lucy begins to realise that just maybe she has been wrong about Kai…and just maybe she has place in her life for more than just her beautiful Gorilla's…
This book was everything! It has been a very long time since I found myself getting so completely absorbed in a book, but with Lucy On The Wild Side it was just impossible not to find myself getting fully absorbed and invested in Lucy and Kai's journey. I just loved the fact that this was an enemies to lovers romance but that there was so much more dept to Kai and Lucy's story than this surface level romance, this book touched my heart on more than one level and I really liked the fact that Rea packed in so much of emotion while still maintain a true sweet love story.
Lucy was easily one of my favourite characters, not only was she a genuinely nice person but her drive and passion for her gorilla trope was just heart warming. I really loved getting to see her connection and bond with each of these gentle giants grow as she took care of each of them. But gosh did my heart just break for the hardships that she had to face growing up and that her relationship with her sister was so strained because of something that her mother had done. One of the things that I liked about Lucy was the fact that she was more content with pursuing her professional life instead of rushing into becoming a mother or setting down, I liked that she was okay with following her own path. Her entire story was both heart warming and heart breaking all that the same time, I will say that I really liked the way things worked out in the end between her and her mother, as well as the fact that she found a way to connect and rebuild a relationship with her sister.
As for our superstar hero Kai, well the saying don't judge a book by its cover, could not be more true when it came to Kai's life. The more we got to know Kai the more my heart just hurt for his guy, not only has he had to carry around the guilt and trauma of what happened with Taji when he was still only a child but also the fact that his mother has been hanging this over his head for all these years. Even with all of this hanging over his head his passion for animals was more than evident and the fact that he wanted to do more with his work to help the conservation only made me love him all the more.
I just loved both of our main character, these two were just electric together, for all their snarky banter they were more alike than they both realised. This only made getting to see them falling in love and getting to know each other all the more beautiful. I just loved their hilariously silly weird animal facts game that they played to dance around their undeniable chemistry. If anything these two had the whole slow burn angsty will they or won't they thing down pat! I really liked that they helped each other break out of the confines that have been holding them back all this time, even when they didn't realise it.
The gorillas, good gosh I really did not expect to find myself getting so invested in these magnificent creatures, I loved the care in which Rae wrote about them and that she took the time to give each one of them a personality of their own. I found it Lucy's bond with Zuri incredibly heartwarming. I loved that this huge furry creature was the reason that Lucy found hope again and ultimately helped her reconnect to her mother in the end. But gosh did Zuri also make me cry, her entire journey was an emotional one all on it own. Though I will say I loved getting to see Zuri taking Keeva under her wing and really giving this baby gorilla another chance at life.
Lucy On The Wild Side was just brilliant, this book had me laughing, cry and swooning in all the right places. After a very long time I found a book that has stayed with me so long after reading, this was truly a story of unconditional love and the fact that love can come from many different places! I highly recommend reading Lucy On The Wild Side!
Book Info:

Publication: September 13th 2022 | Berkley Books |
Lucy Rourke has two great loves in her life: the gorilla troop she cares for as a primatologist and the laundry list of reality TV shows she watches to escape the fact that her actual love life doesn't exist. And like a reality contestant gunning for the final rose, Lucy's laser-focused on one thing: getting promoted to head keeper. So when a wildlife docuseries hosted by hotshot TV personality Kai Bridges chooses her zoo as its summer filming location, she sees an opportunity to showcase her beloved gorillas to the world and land a starring role in her department.
When Kai and his film crew arrive, however, it's obvious to Lucy that Kai cares more about sky-high ratings than the gorillas, and he considers her a camera-averse know-it-all whose wardrobe consists entirely of khaki. But she's surprised to discover there's more to him than his rugged good looks and cheesy catchphrases…and that maybe a promotion isn't the only thing she wants. But when secrets from their pasts threaten to complicate everything, Lucy discovers that happiness and success aren't the same thing—and that finding joy just might mean getting a little wild.