Lost in Her by Sandra Owens is book four in the K2 series and revolves around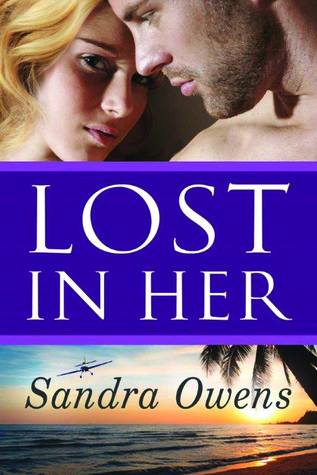 Ryan and Charlie.
Ryan is grieving for his dead wife, but he's spent a whole year mourning her and needs to feel a woman again and decides to find one at the bar. Charlene sees Ryan and immediately wants him, but Ryan has his eye set on someone else. Lucky for Charlie, she was able to turn his gaze right back around. Both Charlie and Ryan aren't the kind of people who do one-night stands, but on this night, they are out to engage in one.
"A part of him that he'd thought dead the past year had stirred, seen her passion, and wanted to take it into himself."
Only it doesn't happen. They share a dance and a kiss and then Ryan leaves. He can't seem to get over his dead wife, who definitely doesn't deserve his loyalty. That's my only downfall to the hero. He talks to his dead wife a lot and it's too much. Even Charlie feels like she has to compete with his dead wife. He doesn't really understand the term "letting go" until the very end. On the other hand, Charlie talks to herself a lot and that's annoying as well.
When Ryan spots Charlie on television he knows he has to see her again. Their passion for one another is quick, but both have emotional scars. Charlie put her stepfather in prison and her stepsister blames her and her ex-boyfriend is a douchebag. Ryan has to deal with the information that his wife was pregnant before she died, especially since it wasn't his baby and just wait until you hear whose baby it is…
I did enjoy a quite a few things with this story. I really loved Charlie's career. She's a stunt pilot who until finding Ryan, could only find happiness in the sky. She's independent, fearless, and speaks her mind. I really like his nickname for her. Ryan calls her cherub because she looks angelic looking. I liked that it was unique and not generic like the normal ones…baby, sweetie, etc. I also liked that how Ryan and his family came together when Charlie was in danger. Those few things are why I gave this 3.5 stars. I wish I could have given it more, but Ryan drove me crazy with the dead wife obsession.

Book Info:

Publication: February 9th, 2016 | Montlake Romance | K2 Team #4
It's been a year since Ryan O'Connor buried his wife. He was in Afghanistan as a SEAL medic when the call came that she'd been killed during a robbery. In that time, he returned home, nursed his grief, and joined his former brothers-in-arms in the K2 Special Services.
After a bad breakup with her ex, Charlene "Charlie" Morgan finds happiness only when flying the friendly skies—as an aerobatic stunt pilot. But the skies aren't so friendly when her plane troubles turn out to be the work of sabotage.
Looking to forget their worries, Charlie and Ryan run into each other at a bar. The chemistry is instant and intense. It's only supposed to be a one-night stand. But the memory of their passionate kiss lingers, and when Ryan shows up at Charlie's flight school, their romance takes off. Yet the route to love has its own turbulence—secrets, lies, and danger. Can one night lead to something lasting?