Mack Daddy by Penelope Ward: When I read the description for Penelope Ward's Mack Daddy and saw it is a romance about a sexy,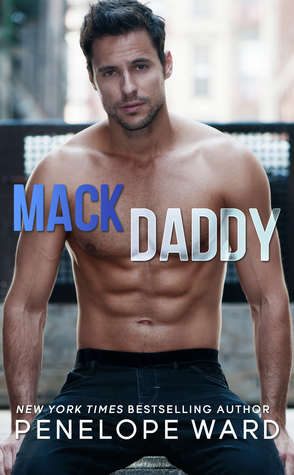 single dad pursuing the girl that got away, I couldn't wait to get my hands on it. Combine this sigh-worthy premise with Penelope Ward's phenomenal writing skills, and I was sure Mack Daddy would be a home run. In many ways, it lives up to my high expectations, but I admit my enjoyment was diminished because the heroine is in a committed relationship with another man for a lot of the book. It bothered me a little, but all readers will not feel this way.
Francesca (Frankie) O'Hara and Mackenzie (Mack) Morrison were strangers when they became roommates in college but quickly became close friends. They were opposites in many ways – Frankie was shy and nerdy while Mack was gregarious and charismatic – but found they really enjoyed each other's company. Frankie was also very physically attracted to Mack from the moment they met, but he had a long-term, out-of-town girlfriend. Mack slowly began to notice Frankie as more than just a friend, and he felt very guilty for thinking about another woman while currently in a relationship. The book features flashbacks detailing this time period, so you'll understand how their relationship began and then stumbled.
Mack and Frankie do not talk to each other for eight years until a single Mack shows up with his son at the school where Frankie works, and his son is in her class. He enrolled him there on purpose, because he has never been able to forget Frankie and now wants a romantic relationship with her. She's currently living with a man she's been with for two years; therefore, Mack's reappearance in her life throws her into complete turmoil, especially when Mack bluntly tells that he wants her and will actively pursue her. He lays it all on the line in blunt terms, and he's quite swoon-worthy. Frankie has to decide if she wants to stay with the man that she has been content with until Mack showed up or if she should seize this opportunity to spend her life with the man who could possibly be her soulmate.
Mack is nothing short of delicious. He's incredibly sexy, a great dad and an all-around nice guy. I am not sure how anyone could resist him when he focuses the full force of his charm onto you. Frankie is sweet, but she definitely has a hard time figuring out what she wants. There's reasons she doesn't trust Mack; therefore, he has his work cut out for him to convince her to take a chance on him.
Mack Daddy is everything you want in an excellent second-chance romance. You'll feel Frankie's gut-wrenching emotions when she is unexpectedly reunited with Mack, and your heart will squeeze hoping they get their happily ever after. If you are okay with a bit of a love triangle, you will absolutely love Mack Daddy. Penelope Ward always delivers, and I can't wait to see what she writes next.

Book Info:

Publication: 2/13/17 | Self-Published – Penelope Ward|
They called him Mack Daddy. No, seriously, his name was Mack. Short for Mackenzie.
Thus, the nickname. Perfect, right?
So was he: perfect. The perfect physical male specimen.
At the private school where I taught, Mack Morrison was the only man around in a sea of women.
Everyone wanted a piece of the hot single father of the sweet little boy. I was riddled with jealousy, because they didn't know that—to me—he was much more.
They didn't know about our past.
He'd chosen my school for his son on purpose, because Mack and I, we had unfinished business.
As my friend Lorelai so eloquently put it: "Unfinished business between two people who are clearly attracted to each other is like an eternal case of blue balls." And I was suffering in pain from my case.
I was still intensely attracted to Mack. I tried to resist him, immersing myself further into a relationship with another man just to protect my heart.
Not to mention, getting involved with a parent was strictly against school rules. But seeing Mack day in and day out was breaking me down.
And soon I might be breaking all the rules.
Author's note – Told in alternating points of view, Mack Daddy is a full-length standalone novel.