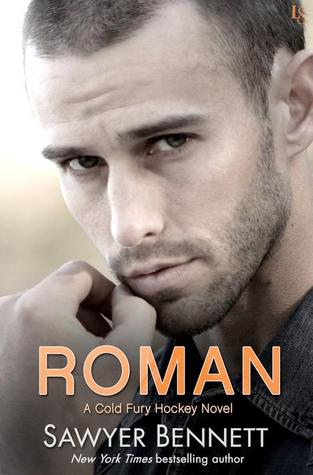 Roman by Sawyer Bennett: Cold Fury defenseman Roman Sykora has a reputation as a bad boy–both on and off the ice–and he gets an ultimatum from the team's GM, Gray Brannon, to either shape up or get traded. While in the office he meets Lexi, who has come to meet Brian Brannon and Gray, the family she learned she had after her mother died the previous year. The two instantly click and start up a friendship that gradually turns to more.
I felt for Roman. Part of his behavior and reluctance to change stems from the fact his parents barely paid any attention to him growing up. He basically did what he did when he wanted, which makes it difficult for him to be told what to do by Gray. He feels like she's trying to get him to change the core of who he is, and while he understands why she should have a say regarding his on-ice behavior, he doesn't feel she has the right to dictate his personal life. He also doesn't know how to interact in family type settings, so when he's invited by Lexi to a gathering with Brannon's, he's uncomfortable and doesn't want to go.
I liked Lexi. She's a woman who's comfortable in her own skin, who knows what makes her happy and refuses to change that. She might not have been rich like her father and half-sister, but she was rich in the way that matters most–in happiness. She was brave to waltz into Brian's office and tell him who she was. Gray is hesitant to accept that Lexi is her half-sister and fears she's trying to get a piece of the team, but despite keeping her at arm's length, Lexi is determined to break down her walls. I also felt for her because Gray warns her away from Roman, and she's often stuck between defending him and trying to keep Gray happy so she'll accept her. It was an uncomfortable position for her to be in.
Gray was featured in the book Ryker. While I liked her in that book, I didn't like her throughout most of this one. I thought she was too hard on Roman. He did a lot of good off the ice, things that she didn't know about, but she doesn't try to get to know him to learn about his charity work. She instead bases her opinion of him on his past behavior, even things that took place before he was traded to the Cold Fury. She keeps telling Lexi that she should take into consideration that the things she does reflects upon the team, except Lexi has nothing to do with the team. She's not an employee and has no desire to be. Gray was very pushy and didn't seem to care that not only was she hurting Roman, but she was hurting Lexi as well with the way she was treating both of them. I had hoped that Ryker would be the voice of reason and help her see the error of her ways, but was somewhat disappointed when he didn't even seem to try other than to say he would try to get to know Roman better.
Readers are treated to a secondary love story featuring Brian Brannon and Georgia, the owner of the coffee shop Lexi works at and the woman Lexi considers to be a second mother. While I enjoyed seeing playful, carefree Georgia break Brian out of his serious shell, the relationship felt rushed. I think it would have been better if their relationship had been featured in a separate novel or novella so it could have been elaborated on a bit more.
The story is told from three points of view–Lexi, Roman, and Brian's–so readers get a well-rounded view of how the characters were feeling and what they were thinking. I enjoyed reading Brian's feelings about discovering he had another daughter and how proud he was of her for paving her own unique way to happiness.
If you enjoy stories about a free-spirited woman accepting a bad boy just the way he is, or books about discovering an unknown family and the struggles to discover her place within that family, you might want to give this a try. I also recommend it for anyone who has read and enjoyed the previous books in the series and those who enjoy hockey romances.

Book Info:

 February 21, 2017 | Loveswept | Cold Fury Hockey #7
In a league full of troublemakers, Cold Fury defenseman Roman Sýkora stands out—at least when it comes to negative publicity. When he's not chilling in the penalty box, the sizzling Czech skate demon is racking up tabloid headlines for his scandalous behavior with the ladies. But now Roman's feeling the burn from management to clean up his act, or else. Luckily he's got an enticing distraction: a fun-loving barista who plays the ukulele and brings out a side of Roman he didn't know he had.
Lexi Robertson came to Raleigh, North Carolina, to finally meet her father, Brian Brannon, and her half sister, Gray, both of whom work in the Cold Fury's front office. That's where she first meets sexy, intimidating Roman—who's really a big softie at heart. As one relationship takes off, another begins: Brian seems to be clicking with Lexi's boss at the coffee shop. But when the friction between Roman and her new family heats up, Lexi wonders whether she's a pawn in their game. Feeling hurt and foolish, Lexi's ready to quit while she's ahead. Trouble is, Roman's not ready to quit on her.