In What a Sicilian Husband Wants by Michelle Smart, Grace Holden is desperately hiding from the past by moving countries and cutting all ties. She is determined to not let her now infant daughter anywhere near the dark power and money of her millionaire Sicilian husband.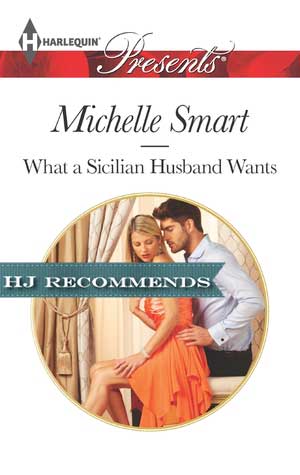 Luca Mastrangelo has finally found Grace and he is not letting her run away from him this time around especially after discovering that he has a daughter. Now, back within his reach, Grace is surprised to see new depths to the man she married, and each crack in his armor makes it harder to fight the desire still blazing between them
'I do not need to soften you up to get you back into my bed.' Ignoring her mention of guilt, he took in her heightened colour, the anger in her eyes that fought with the desire also residing there. 'All I would have to do is kiss you and you would be begging for me to take you.'
'Bull—'
'Would you like to put it to the test?' he interrupted.
What a Sicilian Husband Wants by Michelle Smart starts with a bang quite literally. The pace is maintained throughout the end which makes it difficult to lose interest at any point of the story. Luca is the perfect hero because he fights for his love and tries to understand why Grace ran away from him. Grace was an ok heroine for me, probably because I loved Luca too much. Grace appears to be a little cold in the beginning but as the story progresses, I could understand her aloofness. She is a wonderful mother,feisty but vulnerable and compliments Luca quite perfectly(to my dismay). The romance is intense and wonderfully written with power packed events and characters. There are many tropes in the story like the secret pregnancy plot,misunderstanding plot etc. The conflict is also executed quite perfectly and the angst does not seem forced.
'One kiss and see where it leads, see whether it leads to you begging for more?'
She fixed her hazel eyes on him, her throat working frantically. 'It'll be a cold day in hell before I kiss you or go anywhere near a bed with you in it.'
'If being in hell means sharing a bed with you, I'll take that over heaven.'
Overall,What a Sicilian Husband Wants by Michelle Smart is for everyone who loves dark gangsters romance and powerful characters. Expect the Unexpected with this one..!!
Book Info:

Published February 18th 2014 by Harlequin Presents Series #3224 | (Irresistible Sicilians #1)
On his terms only!
Moving countries, cutting all ties and giving birth to her baby alone, Grace Holden is desperately hiding from her past. But just when she thinks she might have broken free, it catches up with her in the form of her millionaire Sicilian husband!
Grace swore her daughter wouldn't grow up among the dark power and money of his family…but no one walks away from Luca Mastrangelo. Now, back within his reach, Grace is surprised to see new depths to the man she married, and each crack in his armor makes it harder to fight the desire still blazing between them