Maid for the Greek's Ring by Louise Fuller has a stunning cover and a story to match.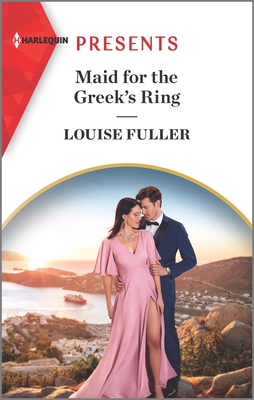 The first time Effie lays eyes on Achileas, there is instant attraction. Fleeting but instant. Thinking it's unlikely she'll see the hotel guest again, it's quite the turn of events when Effie is basically thrown in the back of Achileas's SUV. Accidentally leaving behind her business plan, Achileas thinks Effie may just be the perfect means to an end. He supports her new business while she can help him by being his temporary wife.
A good story that is easy to read. It has adventure and great banter and loads of love. Achileas is quite the typical Presents Hero but I think Louise Fuller did a great job in adding some extra influences that really made me as a reader take note. He was a stubborn rogue who had absolutely no idea that the end of this adventure was the start of his new life of love with Effie. E
Effie was an enjoyable bright spark. She really stood out next to Achileas and her vision of the world really helped bring Achileas back to earth and become human. She has some huge challenges before she can share a life of love with Achileas and I enjoyed reading all about it. For me she was the favourite character.
A lovely story and recommended to all who loves the Presents worlds with
Book Info:

Publication: August 2022 | Harlequin Presents |
Achileas Kane sees himself as living proof that wedding vows are meaningless. But this illegitimate son can only gain his inheritance if he weds. His proposal to hotel chambermaid Effie Price is simply a contract—a contract sealed with a single sizzling kiss!
Stepping in as Achileas's fiancée may be virgin Effie's last chance to launch her perfume company. Playing her role is all too easy when Achileas sends her heart racing. But resisting temptation with a man who doesn't believe love can last? That could prove difficult…