In Sugar and Salt (Bella Vista Chronicles #4) by Susan Wiggs, When Margot Salton decided on the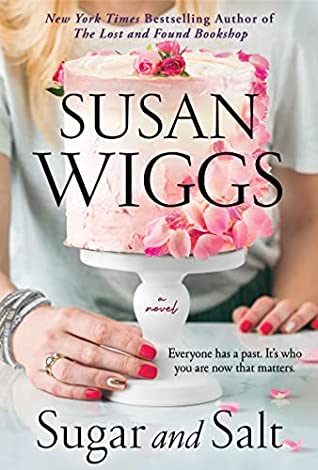 location for her very own barbecue restaurant, she didn't realize that Perdita Street in San Francisco would expand her tiny world in the best of ways. Growing up poor in Texas, she was faced with difficult choices and endured horrors that she's barely put behind her. But Margot's tenacity has helped make her dreams come true. Then she runs into the neighboring bakery owner, Jerome "Sugar" Barnes. He's the nicest man she's ever met. And after a bit of a misunderstanding during their first meeting, the sparks of attraction between them are soon undeniable. Too bad Margot isn't in the market for a man.
"I didn't know how lonely I was until you came along and showed me what loneliness wasn't."
Jerome is knocked flat–literally–when he sets eyes on Margot. He can tell right away that he needs to be careful and treat her with the utmost respect and care. Something he surely doesn't mind doing if it means spending time with the lovely barbecue master. But Jerome had no idea what Margot had been through. When he does learn the details she's willing to impart, he knows he can't let her overthink their relationship and run away scared. Because she's the best thing that's ever happened to him. And that's saying something, considering all the blessings Jerome has had in his life thanks to his beloved mother, Ida–a woman who also understands how important Margot is to her and her son's lives.
'He might never fully know the depth of her struggles, but it was clear she had pulled herself up by her fingernails, enduring challenges and sacrifices that would destroy most people.'
Wow. Epic, heartbreaking, inspirational, and centering around important topics ripped from today's headlines, Susan Wiggs proves yet again just how insightful she truly is with Sugar and Salt.
"You give people a lot of grace, Jerome. It's really nice."
"Everyone has a past. It's who you are right now that matters."
Trigger warning: View Spoiler »Rape, assault, murder in self defense, wrongful imprisonment, racism, in depth discussion of abortion and adoption. « Hide Spoiler
I have to start right off by noting that this will *not* be an easy, fluffy read. Yes, it has a happy ending–for two couples, actually. But their road to the present day when they could finally settle into their lives and be happy was filled with loss, tragedy, horrific events, and bravery unimaginable. The largest chunk of the story is about Margot, but we also got Jerome's and his mother Ida's POVs, involving multiple timelines. Set in Texas (Margot) and San Francisco (Margot, Jerome and Ida), this will likely be a difficult book for some readers to get through. I'll reiterate that if you are sensitive to certain subjects, please check the trigger warning.
Margot's part of the story, for me at least, was a source of frustration, hope, sorrow, and outrage. What she went through and what she overcame was the ultimate redemption but it took everything she had–and a few helping hands along the way–to land on her feet. My heart absolutely broke for Margot. So many times. But when we see her again in the present, her hard work and determination paid off. Both in her career and personal life.
Jerome was the perfect man for Margot. Kind, smart, steady, and thoughtful, he knew she'd been through a world of hurt, even if he didn't know the details at first. He considered himself lucky that he, as a Black man, had been raised in a comfortable community with certain privileges that even Margot didn't have growing up. I loved Jerome's patience with her. And I also adored how his mom knew right away that she was a woman of worth. Ida's portion of the story, which was fairly heartwarming after some hardships of her own, will also be a lovely testament to Wiggs' interwoven plots that will capture your heart easily.
QOTD: Have you read any books with a storyline based on current hot topics in the news or even famous court cases or mysteries?
Book Info:

Publication: Published July 12th 2022 | William Morrow | Bella Vista Chronicles #4
The New York Times bestselling author of The Lost and Found Bookstore returns to Perdita Street with a can't-miss tale of friendship, hardship, redemption, and love between a San Francisco baker and a barbecue master from Texas.
Jerome "Sugar" Barnes learned the art of baking in his grandma's bakery, also called Sugar, on historic Perdita Street in San Francisco. He supplies baked goods to the Lost and Found Bookshop across the street.
When the restaurant that shares his commercial kitchen loses its longtime tenant, a newcomer moves in: Margot Salton, a barbecue master from Texas.
Margot isn't exactly on the run, but she needs a fresh start. She's taken care of herself her whole life, pulling herself up by her fingernails to recover from trauma, and her dream has been to open a restaurant somewhere far, far from Texas. The shared kitchen with Jerome Sugar's bakery is the perfect setup: a state-of-the-art kitchen and a vibrant neighborhood popular with tourists and locals.
Margot instantly takes to Jerome's grandmother, the lively, opinionated Ida, and the older woman proves to be a good mentor. Margot thinks Jerome is gorgeous, and despite their different backgrounds their attraction is powerful–even though Jerome worries that Margot will simply move on from him once she's found some peace and stability. But just as she starts to relax into a happy new future, Margot's past in Texas comes back to haunt her…