Make It Sweet by Kristen Callihan: Life was going perfectly for actress Emma Maron that is until her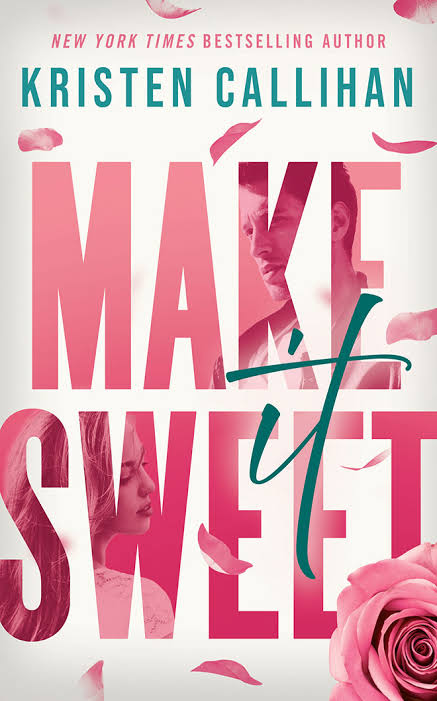 entire world fell out from under her, after her character literally gets axed from the T.V show Dark Castle, Emma heads home to cry on the shoulder of her pro athlete boyfriend only to find him in bed with another woman. With her entire world in disarray Emma finds herself heading to the beautiful Californian estate Rosemount, all she needs is some time to decompress and regroup, however what she gets is one gorgeous former hockey player trying to find his feet.
Hockey has been Lucian's entire world from the time he can remember and for the very thing that makes him feel alive to be taken away in a split second takes some getting used to, but after having to make the hard choice to protect his health and life Luc finds himself battling his own inner demons. Staying with his grandmother at Rosemount was supposed to be his way of shutting out the outside world that is until his grandma decides to give him a much needed push in the form of the stunning Emma.
"Lucian Osmond, you wrecked me." His arm wrapped around my shoulders as his lips touched the crown of my head. "Only fair. You've been wrecking me from the moment we met."
Determined that Emma is not the kind of girl for him Luc goes about ignoring his attraction towards Em but everything changes with a night swim and the most delicious creamy treats that keep arriving at Emma's door each morning. Soon the two lost souls find that they have a lot more in common than either expected, but will these two be able to help heal each other or will this just be a holiday romance?
"You're not safe, Lucian. But you're real. When I'm with you, I feel alive. I'm just me. And it took knowing you to understand that's the best thing any of us can be."
Make It Sweet was absolutely deliciously amazing! I could not get enough of Callahans latest romance. I can easily say this is one of my favorite sports romances of the year so far! The chemistry and build up between Emma and Luc was absolutely insane, from their first interaction you could already see that they would be perfect for each other. Even though this was slightly on the slow burn side, their friendship and silly banter made the wait all the more perfect.
"Sweet mercy, but I might truly orgasm watching this man work his kitchen. I didn't even know it was my kink. Maybe Lucian made it so. When he proceeded to separate an egg with an efficient snap of his wrist, I knew it was him. He was my kink. Damn it all."
Lucian instantly stole my heart, I am a huge sucker for a broken hero that just doesn't know how to find his way out of his own darkness. Also how can you not love a hot former hockey player that bakes? I loved that even though Luc tried to push Emma away he still could not help but create beautiful sweet treats especially for her each day. Oh my gosh the sweets and pastries that Luc kept creating had my mouth watering and craving one of his delectable tarts, definitely keep a bar of chocolate on hand or better yet a box full of your favorite pastries, you are definitely going to be craving them. I have to take a moment to appreciate Lucian's hilariously meddlesome grandma and her stylist, these two were just amazing, I loved every bit of meddling.
"I'm not lost anymore, Em. You found me, and I'm never letting go."
Make It Sweet is a must read for me this book is packed with so many tropes that work perfectly in sync to create one of my favorite romcoms!
Book Info:

Publication: February 23rd 2021 | Montlake |
Life for Emma isn't good. The world knows her as Princess Anya on Dark Castle, but then her character gets the axe—literally. The cherry on top is finding her boyfriend in bed with another woman. She needs a break, and sanctuary comes in the form of Rosemont, a gorgeous estate in California promising rest and relaxation.
Then she meets the owner's equally gorgeous grandson, ex–hockey player and current recluse Lucian Osmond, and she sees her own pain and yearning reflected in his eyes.
He's charming when he wants to be but also secretive and gruff, with protective walls as thick as Emma's own. Despite a growing attraction, they avoid each other.
But then there's an impromptu nighttime skinny-dip, and Lucian's luscious homemade tarts and cream cakes start arriving at Emma's door, tempting her to taste life again…
In trying to stay apart, they only grow closer—and their broken pieces just might fit together and make them whole.