In Malibu Rising by Taylor Jenkins Reid, By 1983, the Riva family is the stuff of legends–especially in Malibu.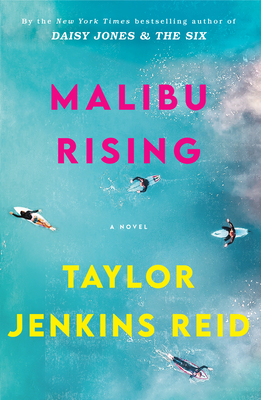 Their father Mick, a world-famous singer, and their mother June had a whirlwind romance in the 1950s which led to them having four beloved children: Nina, Jay, Hud, and Kit. Through many of their father's scandals–both public and private–the Riva siblings learned to depend on each other. Nina, as the eldest, was the mother hen who eventually became a surfer and famous model, while Jay also made a name for himself surfing in competitions across the world. Hud was the photographer who got the best shots of his talented brother. And the youngest Riva sibling, Kit, was in college, still finding her way.
'Family histories repeat… For a moment, she wondered if it was pointless to try to escape it.'
When the day comes for the Riva's annual party at Nina's Malibu cliff side mansion in 1983, her life is a mess. Her tennis pro husband has been outed by gossip magazines as having left her for another well-known tennis player. While Nina would prefer to just forget the party, she knows too many wheels are in motion to stop it. As she and her siblings gear up for the hordes that will descend upon the grand home, they all have a lot on their minds. For Jay and Hud, it's the women in their lives that's giving them worries, and for Kit, she's wondering if a secretly invited guest will finally show up. It all adds up to a recipe for disaster as the music blares, the drink and drugs are rampant, and the celebrities get more outrageous. When the party ends, the question is: will there even be a house left standing?
'This night, Nina could feel in her gut, was not going to end well.'
Malibu Rising is the type of historical fiction you can completely lose yourself in and be swept away by the winding, complex storyline Taylor Jenkins Reid created. A novel about loss and hardship, making sacrifices for loved ones, as well as joy and acceptance, this was about as epic as it gets.
'It was one fire, in a long line of fires in Malibu since the dawn of time. It had brought destruction. It would also bring renewal, rising from the ashes. The story of fire.'
Trigger warning: View Spoiler »Cheating (SO much cheating!), substance use/abuse. « Hide Spoiler
I always have such a difficult time trying to describe a book by Taylor Jenkins Reid because it's more of an experience than it is just a simple story. There was certainly nothing easy or simple about the Riva family's journey, starting with Mick and June in the 1950s, following the family all the way to one fateful day/night in 1983. Alternating between the timelines worked quite well. It felt like with each new issue that cropped up on that day in 1983, we found out something pertinent that happened in previous years that explained why the characters made the choices they did. Or why they were in the situation to begin with.
While Malibu Rising isn't a comedy or an outright cheerful story, there were moments of levity and positive things that happened to the Rivas that kept this from being too dark. I especially got a kick out of how TJR detailed the partiers in 1983. Think: 80s excess with a famous crowd already used to doing whatever they pleased. The mansion party was chaos and drama to the Nth degree, as one would expect. It was the family theatrics, though, that kept me glued to my Kindle, and that will likely resonate with readers. Because, even though what happened to the Rivas was a bit over the top–the family patriarch was a huge superstar singer, after all–the issues they faced were something most of us can definitely understand. Even if we've never lived through it ourselves, we most likely know someone who has.
A family saga that was as entertaining as it was bittersweet and heartfelt, Malibu Rising will keep readers engaged with its strong characters and Taylor Jenkins Reid's powerful writing voice.
QOTD: Do you enjoy novels written with dual timelines?
Book Info:

Publication: Published June 1, 2021 | Ballantine Books |
Malibu: August 1983. It's the day of Nina Riva's annual end-of-summer party, and anticipation is at a fever pitch. Everyone wants to be around the famous Rivas: Nina, the talented surfer and supermodel; brothers Jay and Hud, one a championship surfer, the other a renowned photographer; and their adored baby sister, Kit. Together the siblings are a source of fascination in Malibu and the world over–especially as the offspring of the legendary singer Mick Riva.
The only person not looking forward to the party of the year is Nina herself, who never wanted to be the center of attention, and who has also just been very publicly abandoned by her pro tennis player husband. Oh, and maybe Hud–because it is long past time for him to confess something to the brother from whom he's been inseparable since birth.
Jay, on the other hand, is counting the minutes until nightfall, when the girl he can't stop thinking about promised she'll be there.
And Kit has a couple secrets of her own–including a guest she invited without consulting anyone.
By midnight the party will be completely out of control. By morning, the Riva mansion will have gone up in flames. But before that first spark in the early hours before dawn, the alcohol will flow, the music will play, and the loves and secrets that shaped this family's generations will all come bubbling to the surface.
Malibu Rising is a story about one unforgettable night in the life of a family: the night they each have to choose what they will keep from the people who made them . . . and what they will leave behind.