Marine Force Recon (Declan's Defenders #1) by Elle James: Declan O'Neill is wandering the streets of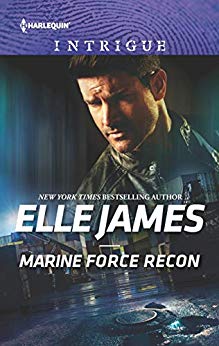 Washington D.C. with all he possess in the backpack he is carrying and ninety-five dollars to his name. With a dishonorable discharge from the US Marine Corp his job prospects are not great. Sightseeing in D.C., something he hadn't quite got around to doing before, makes no sense.
While waiting at a street corner for the light to change Declan sees two dark SUV's escorting a white limousine turning in front of him. All of a sudden two white vans race forward to trap the limo between them; men spill out of the vans and the SUV's and chaos ensues. Guns are blazing and people all around Declan are falling to the ground shot or just dropping trying to protect themselves from the gunfire. He grabs the young woman next to him and drops to the ground with her.
Declan was a Force Recon Marine. Saving lives was his job and he intends to continue on that path. He leaves his backpack with all his worldly possessions with the young woman and enters the fray. That's just part of the first chapter in Marine Force Recon in Elle James new Declan Defenders series.
This book has such an exciting beginning that I knew I wouldn't be able to put it down once I started reading. This author very realistically sets the scene for a suspenseful story chock-full of action with this beginning.
The characters just about leap off the pages and endear themselves to the reader. The storyline is tight and holds the reader's attention throughout the book. Anyone looking for an edge-of-your-seat, heart-stopping, thrill-a-minute story will want to read Elle James latest.
Book Info:

Publication: March 19, 2019 | Harlequin Intrigue | Declan's Defenders #1
Coming soon! Marine Force Recon by Elle James will be avaiWrong place, wrong time.
Right man for the job.
Declan O'Neill's US Marines career is over, but nothing can stop him from saving lives. When he starts an organization that aims to help people who can't defend themselves, his first client is a woman desperate for answers. Grace Lawrence knows something happened to her roommate, and she's certain she can trust Declan to uncover the truth…though she wonders if she can trust herself with a soldier like Declan