In The Lodge on Holly Road (Life in Icicle Falls #6) by Sheila Roberts, Owning and running the Icicle Falls Lodge has been Olivia Wallace's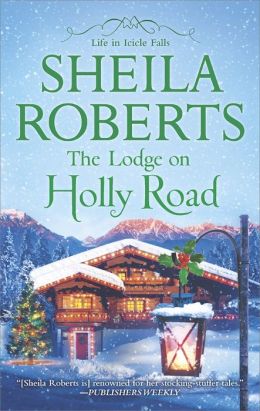 saving grace. It got her through the loss of her husband over a decade ago and she has proven to herself and her two beautiful sons, Eric and Brandon, how strong she can be. But Olivia longs for a little romance in her life, especially as she watches the lovely couples pause under the mistletoe for a sweet kiss. Then James Claussen shows up at the lodge in his Santa suit, looking so handsome, proudly forming new traditions with his daughter Brooke and son Dylan, after his wife passed away the previous year. Their mutual attraction is something neither of them are prepared for and certainly does not sit well with Brooke. But maybe a little romance is just what Olivia and James need to make their Holiday brighter.
'It was foolish to fall in love at her age but she was well on her way. Still, how could a woman not fall for a real live Santa?'
When John Truman planned out this romantic getaway for Christmas with his girlfriend Holland, he didn't expect to spend their first night at the lodge alone while she had to work back in the city. However, it did give him time to meet the other guests and engage in some Holiday activities. One guest in particular, Missy Monroe, definitely turned John's head with her shy charm and her two adorable, if not rambunctious, kids. Missy noticed John, too, and can only hope that someday her children, Carlos and Lalla, will have a father figure in their lives half as dependable and caring as John seems to be. But as Christmas Day draws near, will Missy and her children have their Holiday wishes come true?
"You know, I'm beginning to think I was meant to come up here, not because of Holland but because of you."
She smiled at him. "I think that's why I'm supposed to be here, too."
"Funny, isn't it, how things turn out?"
Sheila Roberts has outdone herself with this charming Holiday novel. It is one of those stories that just touches your heart and makes you truly believe in the magic of the Season.
I've read several of the novels in this series and have enjoyed them all immensely, but I have to say, I think this one is my favorite. And not just because it's a Christmas story. (Although that doesn't hurt!) There was something very special about the people we met and the Icicle Falls residents we got to know a little better. There was the sweetness of two people who had tragically lost their beloved spouses, coming together to forge a brand new future. A hardworking single mom and a truly nice, upstanding guy who unexpectedly fell for each other. And a schoolteacher who had all but given up on such a thing as Mr. Right, finding a kindhearted man who swept her off her feet.
The romantic storyline alone was enough to make me a happy girl, but Ms. Roberts added in the joy and wonderment of people pulling together to make Christmas unforgettable for two deserving children and their mom. Admittedly there was a bit of chaos when they received their gifts from Santa, but those moments were so heartfelt that it brought a happy tear to my eye. That was the magic of this story. And I thought that it was realistic in that not everything worked out perfectly at first. There were definitely tough situations for our characters to get through. However, by the end everything worked out as it should have and we were left with a well-paced, seamlessly written Holiday love story that felt complete and inspiring.
I think fans of the Icicle Falls series will be thrilled with this newest addition. And if you're feeling a bit 'Bah Humbug' this year, The Lodge on Holly Road will be sure to instill some Holiday cheer into your life.
Book Info:

Published October 28th 2014 by Harlequin MIRA | (Life in Icicle Falls #6)
How Santa Gets His Christmas Spirit Back…
James Claussen has played Santa for years, but now that he's a widower, he's lost interest—in everything. So his daughter, Brooke, kidnaps him from the mall (in his Santa suit!) and takes him to Icicle Falls. She's arranged a special Christmas at the lodge owned by long-widowed Olivia Wallace and her son, Eric. And yet…Brooke wants Dad to be happy, but she's not ready to see someone else's mommy kissing Santa Claus.
Single mom Missy Monroe brings her kids to the lodge, too. Lalla wants a grandma for Christmas, and her brother, Carlos, wants a dog. Missy can't provide either one. What she'd like is an attractive, dependable man. A man like John Truman… But John's girlfriend will be joining him in Icicle Falls, and he's going to propose.
Of course not everything goes as planned. But sometimes the best gifts are the ones you don't expect!