In Marry Me at Christmas (Fool's Gold #19) by Susan Mallery, After a visit from Mayor Marsha,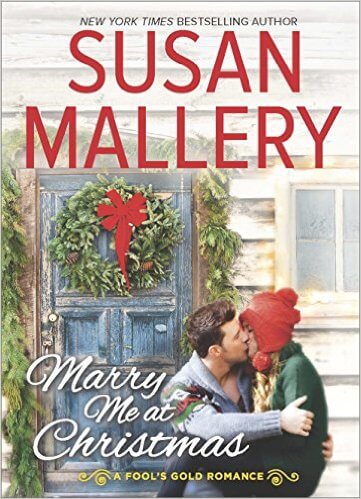 Madeline Krug is stunned to be working with action movie superstar Jonny Blaze to plan his sister Ginger's Christmastime wedding. Madeline may be the owner of a bridal shop, but she's never planned a wedding before. Not to mention she has a huge crush on Jonny. After the initial shock, Madeline finds him pretty laid back and a joy to be around. She's doing her level best with the wedding and trying to ignore her growing feelings for the handsome guy. But some things, like the rightness of their relationship, just can't be brushed aside.
"I want you," he murmured.
Oh, my. She felt both weak and incredibly strong. Hunger burned, but also an unexpected tenderness.
"Then I think you should have me."
Jonny's purchase of a ranch-style home outside of Fool's Gold is just the change of pace he's been craving. He longs to be part of a community and not be treated like a star. So far he likes what he sees. Especially when he's teamed up with Madeline to put his beloved little sister's wedding together. Jonny isn't so full of himself that he can't picture settling down with someone local, but he knows his lifestyle is complicated. Madeline deserves more than his crazy schedule allows. She deserves everything. If Jonny can find a way to balance it all without losing yet another person he cares for, he just might take a chance on the lovely lady.
'Jonny liked the feel of her next to him. He liked her family and this town and the fact that it was only a few weeks until Christmas. Because for now, he could fit in, just like everyone else. And sometimes, that was the best gift of all.'
Does it get any better than a new Fool's Gold story for the holidays? Marry Me at Christmas was everything I look for in a Christmas romance. It had small town charm, genuine characters, laughter, and most of all Love.
I kind of fall in love all over again with the people of Fool's Gold every year when the holiday story comes out. This year was no exception. It's nice that fans get a chance to catch up with the townspeople and perhaps their favorite characters, while newbies to the series get a glimpse of what makes the town so special. Author Susan Mallery pulled out all the stops this time, factoring in the many different events Fool's Gold is known for as well as making sure perennial favorites Mayor Marsha, Eddie and Gladys all had their moments to shine. And boy did they ever!
I wasn't sure what to expect out of action movie superstar Jonny Blaze but I should have known he'd be down to earth. I was seriously impressed with his loyalty to his sister Ginger and with his ability to put people around him at ease. There were still some funny fan moments where he was spotted in town and had to turn on the star charm. But I loved the times where Jonny was expecting townspeople to use his stardom for one reason or another, only to find that they were treating him like anyone else. Watching him, well, not really being brought down a peg or two, but being brought back to reality and being humbled was entertaining.
Madeline was a great heroine. She was modern, strong, loving, and extremely loyal as well. She had a comical inner monologue going on whenever she was close to Jonny, thinking about how much she'd been crushing on him. But what I enjoyed most was when she realized that not only was he a truly nice guy, but that he wanted to be treated like anyone else. Jonny didn't want to be recognized as a star in town and Madeline paved the way to make that possible. Her roots in town and with her family helped them both accept what was between them (eventually) and grounded them when things became overwhelming. Loved that.
Whether this is your first foray into Fool's Gold or your nineteenth, I think Jonny, Madeline, and one sweet senior doggie named Raven will melt your heart and have you smiling this holiday season. Definitely recommended.
Book Info:

Publication: Published September 29th 2015 | by HQN Books | Fool's Gold #19
Wish upon a Christmas star with New York Times bestselling author Susan Mallery's sparkling Fool's Gold romance!
To bridal boutique owner Madeline Krug, organizing a Christmas wedding sounds like a joy—until she finds out she'll be working closely with the gorgeous brother of the bride, movie star Jonny Blaze. How will a small-town girl like her keep from falling for the world's sexiest guy? Especially with mistletoe lurking around every corner!
Jonny came to Fool's Gold looking for normal, not for love. Happily-ever-after only happens in the movies. Still, nothing about this quirky town is quite what he expected, and "ordinary" Madeline is the most extraordinary woman he's ever met. Refreshingly honest, disarmingly sweet. Achingly beautiful.
Planning the perfect wedding leads to candlelit dinners and strolls through snow-covered streets. And Madeline finds Jonny in real life even more captivating than her celebrity crush. But will the action star be brave enough to risk his heart and step into the role of a lifetime?