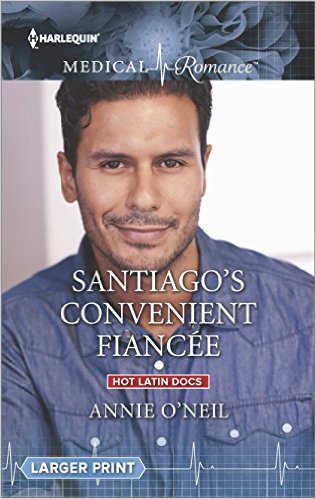 In Santiago's Convenient Fiancée (Hot Latin Docs #1) by Annie O'Neil, Santiago 'Santi' Valentino hasn't seen his brothers in years and is uncertain whether they'll welcome him with open arms. So, instead he throws himself into his work as a paramedic and trying to get to know his new partner, Saoirse Murphy; a gorgeous woman who is hiding a secret and once he learns the truth, he offers to help by proposing marriage.
"I hope you're not daydreaming about my future husband," Saiorse half joked. "And I don't think there's an abundance of oak trees in Afghanistan."
Amanda's eyes widened with amusement. "I'm just messing with you, Saoirse. No need to get testy."
"I'm not getting testy," Saoirse replied…testily. "It's just—it's going to be a busy day."
"Yes, honey. You keep on telling yourself that, but I think someone's got a crush on her arranged-marriage husband!" Amanda's grin was so self-satisfied there'd be no wiping that thing off her face.
The four books of this series are all wonderful reads, and this first story by Ms. O'Neil starts it off brilliantly. Being a medical romance, this book begins intensely with the situation Santiago is dealing with. However, it was the moment when Dante and Saoirse meet for the first time that made this story a real page turner for me. The heroine is sassy and a very good paramedic that loves to joke around with Joe, her partner before Santiago.
The dialogue was intense and emotional due to the main characters back stories and the medical scenes these two have to deal with. Santiago and his brothers lost their parents to a horrible situation in their teens and the hero wasn't able to deal, so he did what was best for him without thinking about his brothers. He regrets the decisions he made in the aftermath of he and his brothers losing their parents and feels he has a lot to make up for. Will his brothers be able to forgive him? Will he be able to forgive himself? Can he find a way to convince Saoirse that he wants her in his life when she hasn't had the best luck with relationships?
The Valentino brothers are hot, and Santiago is a wonderful hero. He's been through so much in his time as a Marine, but he's strong, hard-working and I liked how determined he was to help the heroine with her dilemma. Even though – in the beginning — he wasn't all that interested in the chance at his own family and a forever relationship, yet somehow the more time he spends with the heroine, the more he finds she's good for him just as much as he is for her. Since she finds it hard to trust after what her ex did to her.
"Quit doing that!"
"What?"
"That whole…" she opened her hand and "washed" it around his face "…Latin Lothario thingy."
"You don't like my sexy, sexy talk?" He cranked it up another few notches.
While the heroine, she had me hooked to her point-of-view. She also has been through a lot, and desperately needs Santiago, if she has any hope in continuing to live her life as she is. She has a couple of hard decisions to make such as whether or not to accept Santiago's offer and what is she going to do when she learns news that doctors believed was impossible. She handles every decision the best she can, despite the fact that they might be the wrong ones because her relationship with Santiago is very different from her relationship with her ex.
Overall, this was a beautifully written story about forgiveness, healing and the miracles of finding the right person. The romance was on the sweet side with closed bedroom scenes, but still this couple's chemistry was incredible and had me flipping the pages quickly wanting to discover what would happen between these two on their journey towards happy ever after. The way this story ended brought a smile to my face because I loved how the heroine made things right with Santiago with her surprise and how much the hero was willing to fight for her because there was no way he was letting Saoirse go again. I would highly recommend Santiago's Convenient Fiancée by Annie O'Neil, especially if you enjoy the marriage of convenience or fake relationship tropes.
Book Info:

 December 20th, 2016 | HQN Medical | Hot Latin Docs #1
Can a convenient arrangement last forever?
Saoirse Murphy came to Miami to bury herself in work, determined to forget the canceled wedding she left behind her, and she wants to stay… But only a green card will do!
Enter former combat doc Santiago Valentino. Having reluctantly returned to face his dark past, he's only too happy to be distracted by his paramedic partner and her shocking proposal.
But when their "convenient" engagement tips into a very inconvenient passion, Santiago wonders…will she be his forever wife?