Maybe Someone Like You by Stacy Wise: Katie's plans for the future have just been pulled out from under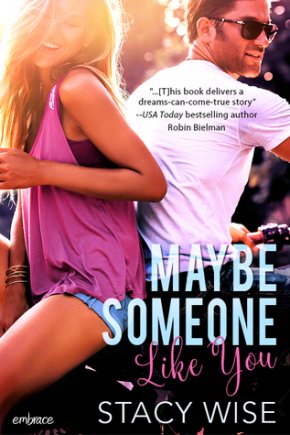 her as the law firm she expected to work for took away her position in a merger; plus her boyfriend almost immediately broke up with her afterwards – even though he just said I love you a few days earlier. Ready to let out a little frustration, Katie finds herself joining a kickboxing gym, and the sexy trainer, Ryan, might have had at least a little to do with her decision.
As Katie tries to balance her new job as an associate lawyer and her extremely demanding boss with her life, she finds herself falling harder and harder for her new trainer. The last guy she'd ever expect to fall for, really, since she's always gone for preppy over tattoos.
I quite liked MAYBE SOMEONE LIKE YOU. Katie was sweet, quirky, and a strong young woman – though perhaps a little too insecure at times when it came to Ryan. It felt obvious to me, his affections for her, but he also could have played it way better.
I would say this story strongly focused on Katie's life rather than the romance. I personally like a sexier, more romantic read, so I found myself not necessarily interested all the time. However, both Katie and Ryan were very likeable, and I highly enjoyed them as they flirted and found a way into each other's lives. And Ryan's kickboxing and other martial artistry didn't hurt in making him one hot hero.
For those who love a sweet romance with some martial artist badass-ery, I highly recommend MAYBE SOMEONE LIKE YOU. It kept you guessing and rooting for this couple to make it.

Book Info:

Publication: April 16, 2018 | Entangled Embrace |
Katie Capwell is a bright and accomplished recent law school graduate, and she has her shiny future all mapped out. It's brimming with courtroom victories and creating change. Ryan Brincatt is a tattooed and impossibly cool martial artist, and he's mastered a fierce roundhouse kick.
Their paths never should have crossed.
But when Katie lurks outside the kickboxing gym where Ryan works as a trainer, she's immediately drawn to his casual confidence and playful green eyes. Without making her usual list of pros and cons, she impulsively signs up to train with him.
She never imagined that one decision would change. Absolutely. Everything.