In Medium Rare, the second book in Meg Benjamin's Medium Trilogy, we read Rosie's story.
Rosie has inherited her Grandma Riordan's house, a home and person her mother left to marry and have a family with Rosie's father. Rosie, to her knowledge, had never met her Grandma, and is happy, but a bit baffled, to have inherited the family home. Rosie will soon find out that that's not all she's inherited from her Grandma.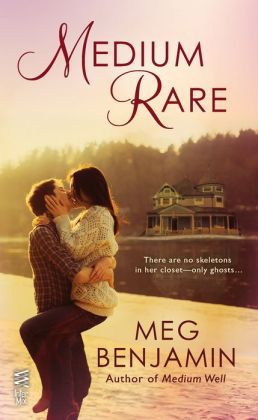 Shortly after moving in to the large house in King William's district of San Antonio, Rosie meets Skag. Skag is not just a relative though. He is a long dead relative who has been the spirit guide for generations of Riordan mediums, a go between between them and the spirit world. While her mother chose to have nothing to do with this family trait, Rosie is actually far more accepting of this than her brother was in Medium Well. Especially when it means she can carry on the family business of Locator's, of course with Skag's assistance. As a reference librarian, there is no way her salary will allow her to maintain the large house.
When Evan Devlin, an investigative reporter looking to discredit one medium in particular, Bradford, is looking for an assistant, Skag suggest Rosie apply for the position. Skag feels there is something off about Bradford at the same time he is sensing a threat to the Riordan's…namely Rosie. There is a lot Rosie doesn't understand about the spirit world and Skag is the only one with some answers for her. The rest she will have to find as she works with Evan to investigate not only Bradford, but the disappearance of two other mediums.
"The Riordans have enemies, Rose. Ones they've collected for centuries…And demonic spirits hold grudges… The Riordans have a history of battling demonic spirits. It's possible this is some kind of payback for things done in the past."
Evan has no idea what Rosie really is. He has discredited the thought of mediums his whole life. Rosie doesn't lie to Evan, but she also doesn't tell him the whole truth about her and her family's history. As Rosie and Evan work closer and closer together though, strange and soon horrifyingly frightening things begin to happen. Things that even Evan can't rationally explain away. Evan and Rosie come closer together, finding comfort in each other. Comfort that starts to go beyond the bedroom. Will they survive the demon's attempt to be rid of them? Will Evan be able to accept who Rosie really is when he finds out? When the threats increase and start involving Rosie's family, in his heart Evan will have no choice but to help her…will it be enough? Can Evan live with who he is too?
Rose and Evan were both great characters that you will really enjoy! Evan is very set in his ways and thinking, which is probably why Rose chose not to let him in on her secret. He shows great character strength though, and I enjoyed watching him grow as a person and become more accepting of things that defy explanation! Despite their differences, I think he and Rose could have a chance if they can survive! He really pulls himself together when the situation requires it, and his acceptance comes easier than even he thought it would!
Rose seems to lead quite an isolated life. She lives in her mansion with Skag, running a business that locates things people can't find. She seems to have no friends outside of business contacts and very limited interactions with her family. I found that a bit odd considering the circumstances she was now living in. I really would have liked to have had a bit more family interaction, especially with her mother and the questions that must have arisen when Rose discovered her gift. We did see Rose a bit in Medium Well, so I was a bit surprised none of the characters followed into Medium Rare with her. Other than that I found Rose to be strong, independent and very accepting of things! I didn't get that she'd had any long term relationships in the past either, but she seemed content with that. Until Evan stirred her up! Even then she tried to tell herself she wasn't interested in long term commitments and what she was sharing with Evan was a need for comfort in an unthinkable situation. Can she admit to herself and Evan how she really feels before it's too late?
Meg gives us another thrilling romantic adventure with Medium Rare. The suspense was incredible and kept you guessing from page to page about what would happen next. What could possibly happen next?! Meg kept the pace of Medium Rare perfect. I was never bored! A little terrified maybe, but never bored! Everything fit together really well in Medium Rare, from ghosts to demons to relationships and sex, they all flowed so well with the story line of Medium Rare and fit in the right places.
I do believe in a spirit world and that some people can communicate with them, so that made me love this book even more…it showed where there is good there can also be bad, and this can apply to fiction and real life. Even if you're not a believer in that line of thought, Medium Rare is a great romantic suspense that will make you want to sleep with the lights on!
Book Info

Rose Ramos was a reference librarian, until she inherited her grandmother's house—and the family talent for connecting with the other side…
Moving into the lovely Victorian in San Antonio's King William District is a dream come true for Rose—and also a nightmare. That's the only explanation she has for the man hovering above her bed. But Skag is a ghost who's been part of Rose's family for generations. And now he's all hers.
When Evan Delwin, a reporter out to debunk the city's newest celebrity, posts an ad looking for a research assistant to investigate a famous medium making his home in San Antonio, Skag suggests that Rose apply for the job. Delving into the dark side has its own dangers for Rose—including trying to resist Delwin's manly charms. But as the investigation draws them closer together, the deadly currents surrounding the medium threaten to destroy them all…
Includes a preview of the next Ramos Family Mystery, A Happy Medium