She Who Dares by Jane O'Reilly is the love story of a plain Jane mechanic,Nic and a world class rally driver Sebastian Prince. Jane has lived in the shadow of her beautiful sister Ella for most of her life and therefore is highly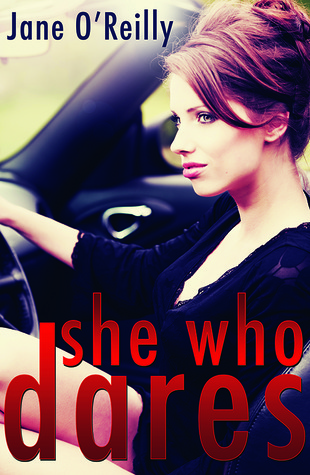 insecure about herself. The only place she loves to be is under the bonnet of a car and she would have remained there if only Ella had not ran away after selling her share of the vintage car business they jointly own to her ex Sebastian Prince,a superstar rally driver. Now Nic has to step out of her comfort zone and learn to operate the business with Sebastian. But with sparks flying,will they able to keep it strictly professional…?
She Who Dares has a Cinderella themed story with the prince falling in love with the plain sister. The writing was simple and I could easily understand what the story was without re-reading the lines. The story was predictable most of the times but I am not complaining because it had enough conflict and sexual tension to make me turn the page. I liked the characters most of the time and the few times they irked me because of the way they behaved in certain events.
Overall She Who Dares by Jane O'Reilly is a good romance with enough conflict and sparks to turn the page and though you want to shout and tell the characters to just kiss and end the tension,it is still a good read. I would recommend this book to everyone who loves romance
Book Info

September 1st 2013 by Escape Publishing
The Ugly Duckling meets Top Gear when a plain Jane mechanic comes face-to-face with the bad boy of rally racing…
Nic Sinclair spends most of her time hiding under the bonnet of a car. With her obsession with engines, a total lack of feminine wiles, and a stepsister who looks like Barbie, she understands that it's the safest place to be.
But when Nic's stepsister sells her half of their vintage car business and does a runner, Nic is forced to set down her wrench and deal with the fallout. Soon she's engaged in a battle of wills with her new business partner, superstar rally driver Sebastian Prince — a battle he dares her to win